February 22, 2021
On Rereading Wuthering Heights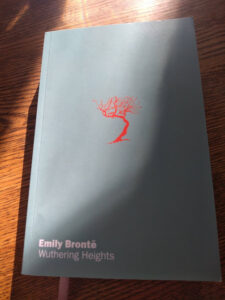 I received the Gladstone Press edition of Wuthering Heights for Christmas this year, a beautiful book that replaced perhaps the most hideous copy of Wuthering Heights in existence, a cheap paperback full of typos—I'd got rid of it or else I'd post a photo, but you can check it out here. (Oh, and while I've got you, doesn't this look like the version of Wuthering Heights that LM Montgomery wrote?) Anyway, the Gladstone Press Wuthering Heights is beautiful, and an occasion to reread this classic novel. I don't remember when I'd read it previously—at least once, perhaps for a university English class? But it was a curious thing to encounter it again.
Mostly because…everybody in the book is terrible. Except the housekeeper, Nelly Dean. Somebody needs to write a Wide Sargasso Sea-style retelling from Nelly Dean's point of view. But everybody else: awful. And not just Linton, who had every right to be awful, because somebody had named him Linton, but all of them, including various Catherines. If only somebody had thought to take the children from these families into town and encouraged them to mingle with wider-society. If only any of them had ever been attired for the weather, which would meant there would have been less catching one's death. This book, I wrote a few weeks ago in an Instagram post, would make an excellent advertisement for Goretex.
Not that I didn't enjoy the book—I did. But I sure did hate everybody within it, until the end when the pieces began to come together. The book underlined for me too how little patience I have for men these days, the excuses we make for their deplorable behaviour. However did anyone get the idea that Heathcliff was a romantic hero? Heathcliff was a monster. Really, this is kind of a book that's up there with Frankenstein, instead. He makes Mr. Rochester look like Prince Charming. And, well, maybe I was wrong to assume he was meant to be a hero at all, maybe I just put him that category because I was young and stupid when I first read this book. But I found absolutely nothing redeemable in his character this time.
Sometimes I feel like we don't know how to talk about men except in exemplary terms. I write about this in my own novel. We're finishing a read-aloud of The Odyssey right now, and maybe it's Emily Wilson's translation, but there is something ironic about the constant refrain of "the godlike Odysseus" in the text, when he really seems to be so fallible, painfully human. And so too with Heathcliff, in whom we attribute depth in order to better understand his terrible behaviour, so that he becomes larger than life, when really he's so pitifully small, and we really need to stop making excuses for terrible men just like him.