About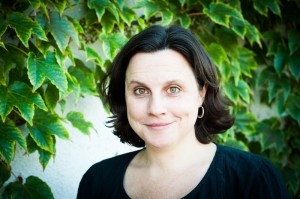 Pickle Me This is written and edited by Kerry Clare.
Kerry is a reader, National Magazine Award-nominated writer, editor & a world famous would-be pickler after all these years. She is editor of The M Word: Conversations About Motherhood, which will be published by Goose Lane Editions in April 2014.
She reads and writes in Toronto, where she lives with her husband Stuart, and their daughters Harriet and Iris. She is editor of the Canadian books website 49thShelf. Her essays, reviews and short fiction have been published in several Canadian newspapers and journals (see below), and she holds a Creative Writing MA from the University of Toronto. Her essay "Love is a Let-Down" was awarded an honourable mention in the Personal Journalism category at the 2011 National Magazine Awards, and appears in the anthology Best Canadian Essays 2011.
She is represented by Samantha Haywood, Transatlantic Literary Agency Inc.
Kerry has been blogging since October 2000, writing mostly about books since 2006. In December 2008, she spoke about literary blogs whilst serving as a panelist on the Arts Matters forum "A Passion for Reading", hosted by Their Excellencies, Governor General Michaëlle Jean and Jean-Daniel Lafond. In September 2010, Pickle Me This was cited by CBC Books as one of ten "Book Blogs We Appreciate". She has also taught The Art and Business of Blogging at the University of Toronto School of Continuing Studies.
Contact klclare AT gmail DOT com
My Work In the World
Books:
Editor and contributor, The M Word: Conversations About Motherhood. Forthcoming from Goose Lane Editions, April 2014.There isn't a mother who hasn't thought of herself as stationed far outside maternity's central zone — that imaginary place where all the babies are cooing, bananas are never bruised, and every woman is comfortable enough in her own skin to disregard a magazine's blaring provocation: Are You Mom Enough? In this original and sometimes provocative collection of essays, Saleema Nawaz, Alison Pick, Nancy Jo Cullen, Carrie Snyder, and many others explore the boundaries of contemporary motherhood. There are the women who have had too many children or not enough. There are women for whom motherhood is a fork in the road, encountered with contradictory emotions. And there are those who have made the conscious choice not to have children and then find themselves defined by that decision. Here some of Canada's best writers face down motherhood from the other side of the picket fence. The M Word. It means something to every woman. Exactly what it means is rarely simple. Find out more about The M Word.
"Love is a Let-Down" in Best Canadian Essays 2011. The third in a series that launched to excitement and acclaim in 2009, The Best Canadian Essays 2011 covers an impressive variety of topics. New series editor, Christopher Doda, and guest editor, Ibi Kaslik, infuse the series with a breath of fresh air—selecting insightful and provocative essays from Canadian magazines that range from personal insights on post-partum depression, a pro-smoking diatribe, and an appreciation of the great opera singer Maria Callas to pieces on "wage slavery", the plight of zoo elephants, Canada's ongoing war in Afghanistan and much more. The Best Canadian Essays 2011 exemplifies the outstanding quality and stunning diversity of Canadian nonfiction writing today.
---
Print, Web and Live:
"Helter Skelter" (Short Story). Forthcoming in The New Quarterly in 2014.
Know the Night by Maria Mutch: Review. National Post, March 1 2014
"The Secret to Raising Readers" Today's Parent, January 27 2014
Review, Lynn Coady's Hellgoing. Canadian Notes & Queries, Winter 2014.
This is the Story of Happy Marriage: How Ann Patchett's Essays Capture Life, Review. The Globe & Mail, November 16 2013
"A Review of Alix Ohlin's Signs And Wonders & Inside"

, 

The Rusty Toque

 Issue 4, February 2013

"Taking Responsibility for the CWILA Numbers: My Piece of the Pie", Guest Post, Canadian Women in the Literary Arts blog, Fall 2012.
Essay, "True Crime: On Sharon Butala's The Girl in Saskatoon", Prairie Fire Vol. 33. No. 3, November 2012.
Review, Cordelia Strube's Milosz, The National Post, September 14, 2012
"Parenting 101: On Katrina Onstad's Everybody Has Everything", University of Toronto Magazine Summer 2012
Review, David Gilmour's The Perfect Order of Things, Canadian Notes and Queries 84 (Out now!)
"Embracing the Global, Celebrating the Local: On Balancing the Multitudes in Canadian Fiction" (essay), The Winnipeg Review, March 2012
"Once there was a baby…" (essay), Blog of Green Gables, February 6 2012
"How to read so your kids will listen" (article), Today's Parent Online, January 27 2012
"The Not-So Good Terrorist: Reading Zsuzsi Gartner's 'Better Living Through Plastic Explosives'" (essay), Canadian Notes and Queries 83, Winter 2011
"Chasing Happiness" (book review), UofT Magazine, Autumn 2011
"When I Was a Compulsive Parenting Expert" (essay), 4 Mothers Blog, August 2011
"The Womanly Art of Blogging" (essay), Women Doing Literary Things, July 2011
"The Challenges of Early Motherhood", abridged essay, Readers Digest June 2011
reading at Draft Reading Series, February 13 2011
"The Difference of Value Persists" (essay), Canadian Notes and Queries Issue 80, November 2010
"Love Is A Let-Down" (essay), runner-up Edna Staebler Personal Essay Contest, The New Quarterly 116, November 2010 –noted by the Utne Reader's blog "Great Writing", November 11 2010 "Newborns Make the Worst Roommates" –nominted for 2011 National Magazine Award (Personal Journalism) –abridged version reprinted in Readers Digest, June 2011
"Small Town Horror Alert" (book review), Globe and Mail November 15, 2010
"You Can't Run a Show on Stage Management Alone" (short story), Eden Mills Writers Festival Fringe, September 19 2010
"Dear Carrie Bradshaw", BlogHer Syndicate June 2010
"Anna Lambert Lived and Died"(short story), The New Quarterly114 (online), April 2010
"Georgia Coffee Star", UofT Magazine, Winter 2010
Descant Blog Posts '07-'09
"At least the baby's library is ready", Rona Maynard Guest Post, May 2009
"What Noise Can Carry" Room Magazine 32.1
"Real Dirty Laundry", This Magazine Jan/Feb 2009
reading at Pivot Readings at the Press Club, Weds. January 28, 2009
"On Literary Blogs", A Passion for Reading (Panelist). Art Matters Forum, Dec. 2008
"On a Picnic" The New Quarterly 108
"Still Born Friends" 2008 Eden Mills Writers Festival Literary Contest (Shortlist)
"Dancing About Literature" Descant 140-
"The New Peppermint" The New Quarterly 104
"Slush Puppy Hart House Review '06
"A Big Enough Army" Toronto Star 7/30/06
"The Philosophy of Elephants" The Globe & Mail 2/3/05
---
Notable Experiences
Instructor, The Art and Business of Blogging at the University of Toronto School of Continuing Studies, from October 2011
Editor, 49thShelf, from March 2011
Provincial Judge, Ontario Secondary School Teachers' Federation's Student Achievement Awards, March 2011
Guest Lecturer, "Bringing Children's Book to Life" for a Literacy course in the Early Childhood Education Program at Ryerson University, November 2010
Curator, Canada Reads Independently
Volunteer, The Children's Book Bank, Toronto
Panelist, "Art Matters Forum: A Passion for Reading," hosted by Their Excellencies, Governor General Michaëlle Jean and Jean-Daniel Lafond
Guest Author/Workshop Leader, Toronto District School Board Authors' Day, May 2008
---
Interviews and Profiles