December 2, 2020
Butter Honey Pig Bread, by Francesca Ekwuyasi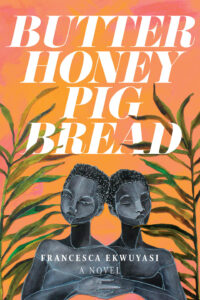 One more title that I am glad I got to before the year was out was the debut novel by Francesca Ekwuyasi, Butter Honey Pig Bread, which was longlisted for the Scotiabank Giller Prize. It was fantastic, a debut that was so polished and assured, hugely ambitious in its reach and just as successful in execution…and by page 19 it was clear I'd be baking the cake Taiye makes to celebrate the occasion of her twin sister's homecoming, salted caramel chocolate. Which was baked before the day was out.
It's a hugely evocative novel, gorgeous and sensual, rich with foods and cooking, and also with sex. Although it begins with something more unearthly, the birth of Kambirinachi, a Nigerian woman presented as an Ogbanje, "a spirit that plagues a family with grief by dying repeatedly in childhood and being reborn." Except that Kambirinachi cheats the system and clings to her life, but she will pay a price for this. Which is how she explains tragedies that befall her when she loses her parents, and her husband dies, and then something terrible and traumatic is suffered by her twin daughters that tears the rest of their family apart.
The three strands of this novel belong to Kambirinachi and her daughters, Taiye and Kehinde, who grow up estranged from each other and head out into the world apart. Taiye goes to London, and then studies cooking in France, and eventually arrives in Halifax, Nova Scotia, before returning home to care for her ailing mother. Meanwhile, Kehinde is left behind when her sister moved to London, and makes her own way to study in Montreal and build a life there.
At the beginning of the novel, Kehinde is arriving home to Lagos with her new husband, meeting her mother and sister again for the first time in years. We learn her story in the first person, seeking to make sense of her traumatic past and move forward in her life. Similarly, Taiye's tells a story that blends the present day experience with what she's been through in her life, and finally their mother's story is told chronologically, adding necessary context to the twins' experience—for the twins themselves and the reader alike.
The progress of the novel is these three strands becoming re-woven together, braided tighter and tighter throughout the narrative. It's a novel that in many ways reminded me of Saleema Nawaz's Bone and Bread, for themes of family estrangement, loss and mystery, and also food, and I would definitely recommend it for anyone who enjoyed that book.
I also appreciated its treatment of Black communities among the diaspora, Nigerian Taiye in Halifax visiting the Africville museum commemorating that city's historic Black community, and the other Africans she meets in London. And that a novel creates such a powerful sense of place in so many different places—Lagos, London, Montreal, Halifax—is also a remarkable achievement.
Butter Honey Pig Break is a standout debut, and as much as it will make you hungry, it will also more than satisfy.