April 8, 2020
How to Pronounce Knife, by Souvankham Thammavongsa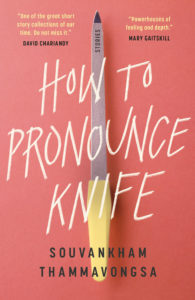 Make your book pink. Make your book slim. Put a nail file on the cover, and have your reader forget that it's actually a blade, and this is how you do it, create a story collection that seems unassuming but will cut you with its razor edge. The "Yes, Sir" delivered in a tone that really means, "Fuck you!" And it gets under your skin, of course, a book like this, Souvankham Thammavongsa's fifth book after four acclaimed poetry collections and her debut fiction, the short story collection How to Pronounce Knife. (Full disclosure: the writer and I were classmates twenty years ago, and I since followed her career with admiration.)
These stories are subtle, wonderful and jarring. They range between those from the perspective of children of immigrant families from Laos (reflective of Thammavongsa's own background), children who are know before many of their classmates the way that parents are actually fallible after all, that they struggle and have limits, and stories of people awkwardly navigating social and romantic mores, failing to fit in with convention (which is another way of not failing at all—especially in a story).
In the title story, a child takes her father's guidance on the correct way to pronounce "knife," and learns the lessons of a lifetime in the process. In "Paris," a woman who works in a chicken factory dreams of getting a nose job—and experiences vicarious heartbreak. A seventy-year-old woman has an affair with her young neighbour in "Slingshot," a story with the most perfect, powerful ending.
I LOVED "Randy Travis," the story of a family who immigrates from Laos, and the mother falls in love with country music, which helps define for her a different kind of life she desires for herself. In "Mani-Pedi," a failed boxer who ends up with no choice but to take a job at his sister's nail salon—but who insists on keeping his dreams. "Chick-a-Chee" is about one family's embrace of a bizarre local ritual. "The Universe Would Be So Cruel," awesome and heartbreaking, about a man who runs a small print shop and has an uncanny knack for knowing the future for the couples whose invitations he creates. A child considers the mystery of her mother in "The Edge of the World." A school bus driver realizes he's losing his wife in "The School Bus Driver." A mother watches her daughter from afar in "You Are So Embarrassing." The story "Ewwrrrkk" begins, "The summer I turned eight, my great-grandmother showed me her boobs." An accountant looks for love (and potential clients) in "The Gas Station." A childhood friendship is recalled in "A Far Distant Thing." And a young girl goes to work with her mother in the final story, "Picking Worms."
The stories are quiet but powerful, the sentences extraordinary, the volume as a whole is such a pleasure to read and to discover.