March 6, 2019
Autopsy of a Boring Wife and The Matchmaker's List
It's been over two years since Marissa Stapley and I sat down to talk about the state of Canadian commercial fiction, and while I'm not sure the genre has yet received the respect that is its due, I'm glad to see there have been changes on some fronts. When I asked Stapley what could be done to promote diversity in commercial fiction and challenge its glaring whiteness, she dared to be optimistic, saying, "There's room for all the stories. The tent is getting bigger and bigger. It's exciting." And here in 2019 there is demonstrable evidence that this is true, not least of all commercial and critical success by writers such as S.K. Ali (who writes YA) and Uzma Jalaluddin, whose Ayesha at Last had its film rights scooped up last year. Finally, commercial fiction lovers are getting the chance to read great books from a diverse range of perspectives—including two titles I've loved lately.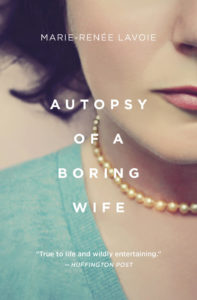 Autopsy of a Boring Wife, translated from French by Arielle Aaronson, is by award-winning Quebec writer Marie-Renee Lavoie, the story of a woman whose husband has left her for another (younger) woman, because she's boring, Diane supposes. Because she can't even dance: "I was born boring. The gene in question slipped into the double helix of my DNA during conception." But Diane, of course, is anything but boring, and the narrative follows her through the painful aftermath of her husband's confession, their separation, and her attempts to reorient herself in this brand new life, which she takes on with aplomb via a sledgehammer to severals walls in her home and antique furniture. She follows her best friend Claudine's mad schemes to get on the rebound, makes confessions to her therapist, attempts to make a move on a coworker and ends up with losing her boots (this is not a euphemism), gets delicious revenge on her husband's girlfriend, hides in the pantry while the realtor shows her house, and does her best not to take it all out of her children. And Diane's incredible love for her adult children is what grounds her, and what grounds this novel that's full of quirks and zaniness, as Diane talks about how parenthood is a combination of visceral fear and a kind of gratitude.
The novel is written in the first person, mostly dialogue and little exposition, and the reader has to read between the lines to get a real understanding of the extent of Diane's pain and suffering, sledgehammer aside. (She's pretty blasé about the sledgehammer. Her neighbours are certainly concerned.) Autopsy of a Boring Wife is slapstick, funny and absurd, but underlined with a tenderness and poignance that will have you rooting for happily ever after after that.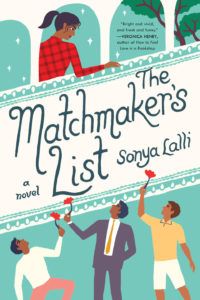 Happily ever after is also the object of Sonya Lalli's first novel, The Matchmaker's List, although Raina and her grandmother have different ideas about what that entails. She's just about to turn 30, which is the age she'd promised Nani (years ago, when 30 seemed an eternity away) that she'd be married, and though she's still pining for a man who broke her heart and more devoted to her job in downtown Toronto as an investment banker than to finding a new relationship, she agrees to go on dates with a list of eligible men that Nani has selected for her. Which sounds like set-up enough for mix-ups and mishaps, because some of the men are ridiculous, and Raina never holds back on letting them know what she thinks of them, but Lalli throws another wrench in the works when Raina's Nani incorrectly infers that Raina is gay, which rocks their Hindu-Canadian community and creates even more trouble for Raina. It's possible the novel is a bit too packed—Raina's old boyfriend shows up in town; her best friend is getting married and Raina has feelings for a groomsman; Raina's wayward mother (who had Raina as a teenager, which makes Nani all the more determined to marry her granddaughter off properly) drifts in and out of Raina's life; and a family friend who actually is gay struggles with whether or not to let his parents in on his secret. But Lalli's writing is smart and funny, and her characters are refreshingly flawed and multi-faceted, which made reading this novel about family and friendship absolutely a delight.