September 19, 2018
The Luminous Sea, by Melissa Barbeau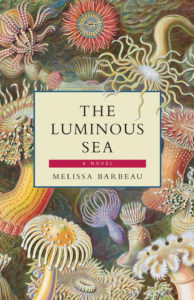 If, like me, you are drawn to Melissa Barbeau's debut, The Luminous Sea, because of its cover (Ernst Haeckel!) then keep on going because the novel itself is just as gorgeous and rich with wonder. Beginning with Vivienne, a university researcher charged with collecting data on the phosphorescent waters off the coast of Newfoundland, not anticipating her next catch—a sea creature unlike anything anyone's ever seen before. A little Shape of Water, but there's no sex in the bathtub, and Vivienne and her supervisor, Colleen, create a tank out of a chest freezer instead. And the creature is a female, or at least Vivienne keeps calling it "she," even as she's admonished for the anthropomorphizing. Dynamics in the lab are getting complicated—Colleen's superior arrives and attempts to take control of the discovery, and in a shocking act of violence (exquisitely rendered in prose like you've never seen before) he tries to subdue Vivienne as well. Meanwhile, Colleen is carrying on an affair with a local cafe owner whose wife is wise to it all and spends her time making preserves out of such unlikely things as jellyfish, and Vivienne is only there at all because she's run away from a broken relationship with her girlfriend in the city. And in the meantime, the creature is not doing well in the tank ("Three days in and scales were coming off in her hand when she touched her, like flakes of opalescent pearls…"), and it might be up to Vivienne to save it. So that this extraordinary novel whose sentences and imagery shimmers and shines is also taut with tension, fast-paced, impossible to put down. But oh, the writing! It's the writing I keep going on about. The following is my favourite part:
"A long stainless steel table is in the middle of the room. Next to it a second table made from a wooden door laid across two wooden sawhorses and covered with sheets of plastic. Instruments and vials, pincers and thermometers and gloves, measuring tapes and suction-cupped monitors are arranged in near rows on top of it. The doorknob is still attached to the door and makes a small mound underneath the plastic. Vivienne wonders if they have not made some kind of underestimation when considering door security. It seems as if at any minute someone might turn the handle on the supine door, throwing scientific instruments across the room; that someone will will up through the horizontal doorway, like that party trick where someone climbs an imaginary set of steps in the carpet behind the couch."
Do Not Underestimate Door Security turns out indeed to be one of the novel's many morals, and maybe (definitely) I've got a thing for door imagery anyway, but that paragraph for me is emblematic at how beautifully imagined this novel is, its realities and its many possibilities. There is a generous expansiveness at the heart of the book, doorways onto doorways, but it never grows too strange and mystical and stays controlled, anchored in the physical world, with such attention to accuracy and detail, scientific, like the image on the cover. Melissa Barbeau is an extraordinary writer, and I can't stop talking about this book.