December 5, 2017
Short Story Splendour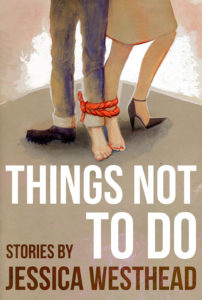 Things Not to Do, by Jessica Westhead
I still remember my first Jessica Westhead short story, the title story from what would become her debut collection, And Also Sharks. It was 2012 at the Pivot Reading Series and I was sitting at the bar, and was enthralled: this was a voice like no other. A character whose voice is the light in her darkness, the force and will of it. I loved that entire book, and Westhead's latest collection does not disappoint those of us who've been waiting for it. From Judy who has been working on her assertiveness, to the wedding DJ and Justin Bieber's dad, and these stories are sad, funny and so quietly and powerfully subversive. I loved them.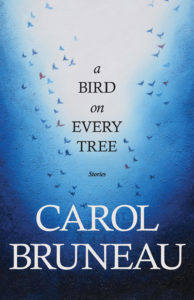 A Bird on Every Tree, by Carol Bruneau
This collection had me with its very first story, "The Race," in which a disappointed war bride takes her chances in a marathon ocean swim, and as a swim-lit aficionado, I was besotted. The story was a feat of language—such sentences. And it's not just that all the stories in the collection are that splendidly written, but that they manage to be with such incredible breath—historical fiction with the war bride, and then a nun via Lagos, a new mother in a greenhouse with her baby on her chest, a married couple unmoored in Italy, a mother leaves her grown son in Berlin: "We wake to the news that Osama Bin Laden is dead. My treasure in tow—the cheap, matted repro of Kollwitz's Sacrifice—we catch our early morning flight to Rome." Old flames and burning fires, and some stories in which the fire goes out completely. If this book were non-fiction, it would be an encyclopedia, because it's got the whole wide world inside it.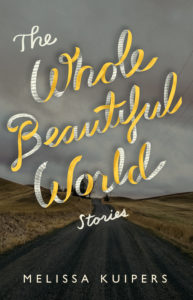 The Whole Beautiful World, by Melissa Kuipers
And speaking of the whole word, let's turn to Melissa Kuipers' debut collection, which I read over a lovely couple of days in early October. Not all the stories were equally impressive, but those that set the standard were really great. I loved "Mourning Wreath", a look back at a childhood friendship and this fantastic image of a letter written along the entire length of a roll of tape. Many of the stories take place within small, tight-knit Christian communities where the outside world is viewed with suspicion: the sight of a dead cow and a preacher's invocation of hell commingle in "The Missionary Game." I also really liked "Happy All The Time," which tracks how a reaching college kid turns into a cult leader, and "Mattress Surfing," worlds colliding when an ultrasound technician contemplates the tiredness of her romance with a air balloon pilot.  Memorable and original, these are stories that have stuck with me.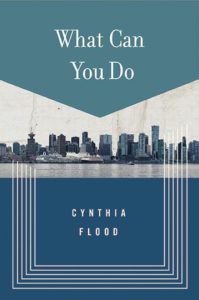 What Can You Do, by Cynthia Flood
I knew I was in very good company when I was out for dinner in late September, and we were talking about books, and every single one of us had something admiring to say about the work of Cynthia Flood. At that point I'd just read the first or second of the stories in her latest collection, What Can You Do, a collection I'd been well advised not to barrel through but instead to savour slowly, story by story. In the first story, a vacationing couple try to recreate a memory but find it haunting by disturbing stories in the present. In the second, a woman attending an event alone soon after a break-up takes the most satisfying revenge. And oh my gosh, the rumours of a kindergarten predator in "Wing Nut," hiding behind a tree: how do we ever discern what is reality? Plus the girl who finds the letter from her dead mother hidden in a desk. I could go on. This isn't a collection that's easy to talk about as a whole, but every single one of its parts is worth an entire conversation. I like these stories, and they're ones that I'll return to.