October 10, 2017
Dazzle Patterns, by Alison Watt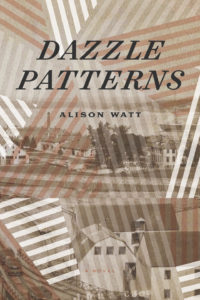 When I'm reading historical fiction, it always takes me a bit of time to get settled in the story, to find my bearings in terms of place and time. It's like travelling to any land that's a bit foreign, I suppose, where the customs and language aren't quite what you're familiar with. And so I knew to be patient when I started reading Dazzle Patterns, the debut novel by Alison Watt, whose previous works include poetry and award-winning non-fiction. Which wasn't hard because the premise was compelling: a young woman is working in the local glassworks in Halifax in 1917 as a flaw-checker, dreaming of passage to Europe where her fiancé has been fighting. Parts of the story is also from his point of view, Leo, traumatized after surviving the Battle of Passchendaele, though he doesn't write that home in his letters. And the other protagonist is Fred Baker, an artisan who works with Clare at the glassworks. He's the one who delivers to her the hospital on that December day when two ships collide in Halifax Harbour, leading to the explosion that levels huge swathes of the city, leaving so many Haligonians dead or injured. Fred spends the next few days working without ceasing in the overcrowded makeshift morgue, but this doesn't keep him from falling under suspicion by his colleagues and official authorities—though he's long been a Canadian citizen, Fred was born in Germany, and there are many people in Halifax who aren't convinced that the explosion was an accident.
Clare begins to recover from her injuries as Halifax itself slowly rebuilds after the tragedy, and she's pulled between her parents' wishes to shelter her and her yearning for independence. When Leo is reported missing, Clare realizes that she's lost her getaway plan, as well as her fiancé, and contemplates the limits of the future before her. To stay busy as her recovery continues, she begins taking painting lessons at the School of Art, where Fred is also a student. And the connection before them does not occur in cliched ways one might expect, because this is too interesting a story for that, besides there are complications—Clare still loves Leo, and her landlady's daughter has fallen in love with Fred.
These central strands to the story become woven in a wonderful fashion. The novel's title comes from the patterns painted onto ships to break up their silhouettes and make the vessels more protected from German U-Boats, which is just one very practical role that artists played in supporting the war effort. Watt portrays other roles as well, artists documenting the war by painting battlefields and the ships in Halifax Harbour, real-life Canadian artists appearing as characters in the book alongside Fred and Clare. The intricacy of glasswork in particular is an important element of the story, glass's amazing technological capabilities but also its fragility. This is a novel about art, and vision, about seeing, and looking carefully at things—and about what happens when other people fail to do so. The Halifax Explosion and World War One are the book's backdrop, but not its reason for being—and these historical events aren't manipulated either to become metaphors to serve the author's purposes. War and destruction are brutal and violent with long-term ramifications that take years to come to the surface. There is nothing heroic about any of it, except for the people who show up to help others.
And so there would eventually come a point when Dazzle Patterns won me over entirely, as you've probably noticed, when its people and the streets they walk on became as vivid as the room I'm sitting in now. I loved this book, the art of its tapestry, all of it leading toward an ending that was absolutely perfect.