July 10, 2017
Hunting Houses, by Fanny Britt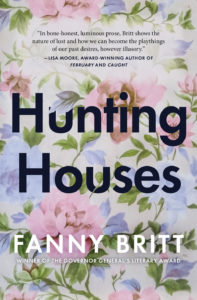 Here's my true and somewhat embarrassing presumptuous confession: if I were a Governor-General's Award-winning author, translator and playwright (with more than a dozen plays to my name) then Fanny Britt would totally be my Quebecois alter-ego. I started considering this idea when I published the non-fiction anthology The M Word: Conversations About Motherhood in 2014, and learned that the year before Britt had published an anthology of essays about motherhood called Les Trenchees, illustrated by Isabelle Arsenault—who had also illustrated Britt's award-winning graphic novel, Jane, the Fox, and Me. I even bought an ebook version of Les Trenchees, although I can't read French, but I figured if I wanted to read it hard enough I'd figure out how, although I never did. But no matter now, for Fanny Britt's thoughts on womanhood and motherhood as expressed in her acclaimed novel Les maisons are now available as Hunting Houses, translated by Susan Ouriou and Christelle Morelli. A novel I read on the first two days of my holiday last week and loved completely, and also I hope there is a fictional world somewhere in which Britt's protagonist Tessa and Sarah from my novel Mitzi Bytes are sitting in a kitchen having the most delicious gossip.
"There's some solace in thinking your house will live on outside you, like an extension of yourself, a promise renewed no matter the trials or failures, bestowing sudden meaning on sorrow. Personally, I have a hard time swallowing the whole idea because I have no desire to see others blossom where I wilted—but then I'm not that nice a person."
But then Britt is that kind of writer, I think. The writer who makes you feel as though you're privy to some incredible intimacy, or even that she's written her book with the most uncanny regard for the contents of your soul. I am sure I'm not the only reader who's come away from Hunting Houses imagining that Britt and I have some kind of spiritual connection, that in some actual kitchen we could be terrific friends.
Anyway, it's always a kitchen, right? Domestic realms. Kitchens and nurseries. Rooms matter, in particular because Hunting Houses' Tessa is a real estate agent, an occupation that gives her curious access to other people's lives. Although it's in the laundry room where the story begins, where Tessa is being shown the house of a new client, Evelyne, whose selling her house due to divorce. "I don't yet know that I'm at his house," is the novel's first sentence, he being Evelyne's soon-to-be-ex, who Tessa encounters on a subsequent visit. An old flame of Tessa's, a mostly unrequited seemingly inconsequential relationship, but one that arrives on the tail of adolescence and just before a jarring trauma, so that she never entirely gets over him, Francis. And then suddenly here he is all these years later, and the two of them make plans to meet.
Is she happy, Tessa, in her life? Selling houses becomes a metaphor for the hollowness at her core, a career she came to after a failure to become a professional singer, and then an early voyage into parenthood, which comes to define her. In a way it doesn't to her husband, Jim, a trombonist, who has achieved a coveted job in an orchestra. But motherhood being not a full enough answer to the question of how a woman spends her time (as I write about in Mitzi Bytes; as Britt writes, "Is Tessa really going to spend the rest of her life working in a bookstore and having babies?"), Tessa requires something more, and so there is real estate. But there is also swimming lessons, and driving her children to school (and fitting awkward projects just-so into the trunk of her car), and Tessa is also in charge of the sweets on sale at her children's school's science fair.
"There's the organizing committee and its numerous meetings, the first one usually held on a dark windy Wednesday November evening during which no one has anything to say about an event to held months later, but it's the main source of social interaction for some parents, so I go (one out of every three times) since I don't want to lose my kingdom."
There is also Tessa's best friend Sophie, who's spent ages trying and failing to get pregnant, and memories of their youth together. And Tessa's feelings about her life and about motherhood are further defined by her relationship to her own mother, which is complicated. Years before when Tessa was small, her mother took Tessa and her brother and fled her small town marriage and world for a single, free but hard scrabbling life in Montreal—and it's interesting to read about motherhood from the perspectives of daughters whose mothers aren't 1950s archetypes, a generation skipped. To be the daughter of a generation of women who made the breaks and took the chances, but learned that these kinds of risk aren't necessarily the answer to every question. That life is much more complicated than that.
With shades of Virginia Woolf and Rachel Cusk in A Life's Work and Arlington Park (but less annoying), Hunting Houses is the story of a few days in a life, and it also moves in and out of years. It's a taut read and its momentum comes from Tessa's voice and the surprising nature of her perspective, and also from the suspense of will-they-won't-they as she prepares to meet with Francis again. It's about the unflagging interestingness of other people's lives and other people's houses, and the lives we could possibly lead if we came unmoored from our own. "It was the blessed hour when lights go in houses and curtains have not yet been drawn." Stories, like lit windows, illuminating countless other worlds.