February 5, 2017
Birds Art Life, by Kyo Maclear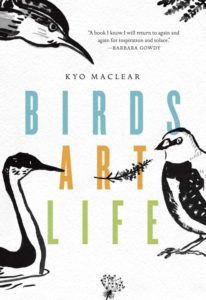 "…what he really taught me was that the best teachers are not up on a guru throne, doling out shiny answers. They are there in the much beside you: stepping forward, falling down, muddling through, deepening and enlivening the questions." —Kyo Maclear
In her book, Mommyblogs and the Changing Face of Motherhood, my friend May Friedman refers to the value of "critical uncertainty in practice," as opposed to "the generalizing trap of expert discourse." Indeed the best blogs, and life itself, are all about "stepping forward, falling down, muddling through, deepening and enlivening the questions." And while Kyo Maclear's new memoir, Birds Art Life, is no blog—its prose is polished perfect; by design, the book is an object most exquisite—it has a bloggish spirit, with its wide vistas, room to wander, and the miraculous and serendipitous way that one thing seems to lead to another.
It's not a book about birding, or even discovering birding—it's a book that's far more vicarious, and stranger than that. Here is a book about a year Maclear spent hanging out with a birder, figuring out what makes him tick. Developing a passion for birds in the process, but that's not the point of this memoir. Yes, there are birds, but it's also about family, and history, about caregiving, marriage, waiting, reading. About darkness, and prisons, and action in dangerous times. It's about cities and nature, about the hearts of things and also their edges.
"Life and death. Survival and extinction. The common and the rare. The robust and the disappearing. I had come to see that birding was about holding opposites in tension. It elicited a twoness of feeling—both reassuring and dispiriting—especially in a city where so little landscape had survived modernity's onslaught. In that twoness was a mongrel space between hope and despair." —Kyo Maclear
I've loved Kyo Maclean's work since reading her first novel, The Letter Opener, in 2008. In 2012, she released her second novel Stray Love along with the picture book, Virginia Wolf, and created a list at 49thShelf of Picture Books for Grown-Ups, and what I love about Birds Art Life is that she's now herself created such a thing. First, because the book is illustrated with photographs of birds by her birding friend, Jack Breakfast, and also with Maclear's own line-drawings, which add whimsical charm to the pages in a the fashion of Maira Kalman. And second, because of how the stories in this memoir contain echoes of her picture books, works that are so rich in thoughtfulness and wisdom—and now grown-up readers get to read it all too.
But it's a particular kind of wisdom. I feel as thought Maclear herself would feel uneasy with being declared as wise, but it's the kind of wisdom she's talking about in the excerpt I quoted at the beginning of this post. The kind of wisdom that comes from falling down, from enlivening questions, rather than supposing there are even answers.
The year Maclear captures in her memoir is a dark one, although it comes with requisite moments of light. But she's been caring for her father during a period of illness; she's still negotiating her relationship with her mother; she worries about her younger son and identifies with his anxiety; close to the end of the year, two close friends of their family are imprisoned in Egypt and news of their fate is held in fear and uncertainty. And as I read this book yesterday, I was thinking that this is precisely the very book I need to be reading right now, not to escape from the things outside my door that make me afraid these but instead to "enliven the questions." A book that—like so much that I'm reading these days, like so many books that are saving my life—helps me negotiate that space between hope and despair.
Leaning towards the hope, even.