November 21, 2016
Destination Bookshop: Hunter Street Books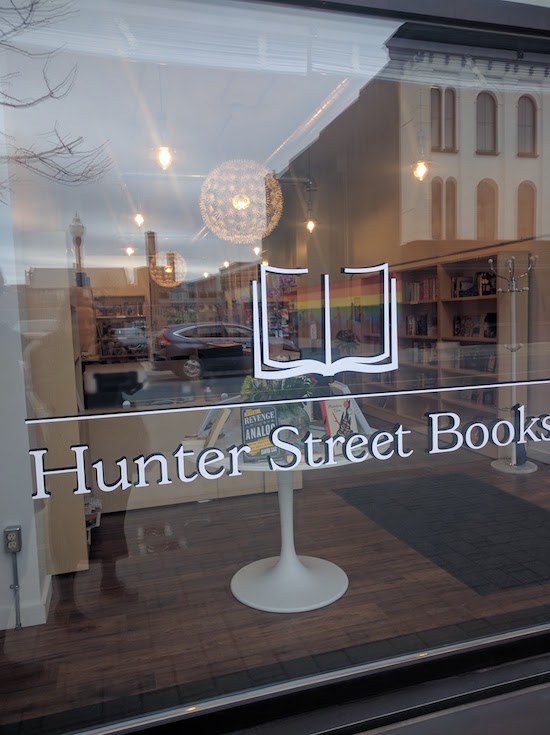 Saturday started pretty badly: literally seconds into our road trip to Peterborough, I hit a bollard while backing out of a parking space and took the front bumper off a giant Toyota. How was this even possible? My front wheel well hit the bollard and away went the bumper, and this was as upsetting as you might expect. I tried to put it back on myself, but it turned out the car wasn't made of lego. I'm going to be getting an unpleasant bill. I cried and two teenage boys came over to marvel at the damage while I cried. Miraculously, the car sharing company gave me use of another car, however, and this one I managed not to destroy. And so we were off, flying down the highways toward Peterborough's brand new bookstore, as planned, and we were talking about how I'd never had a car accident before, and if one has to have such a thing, this one is probably best case scenario, and how nobody was hurt, no other cars were involved, and even the bollard was unscathed. How the Toyota was too big anyway.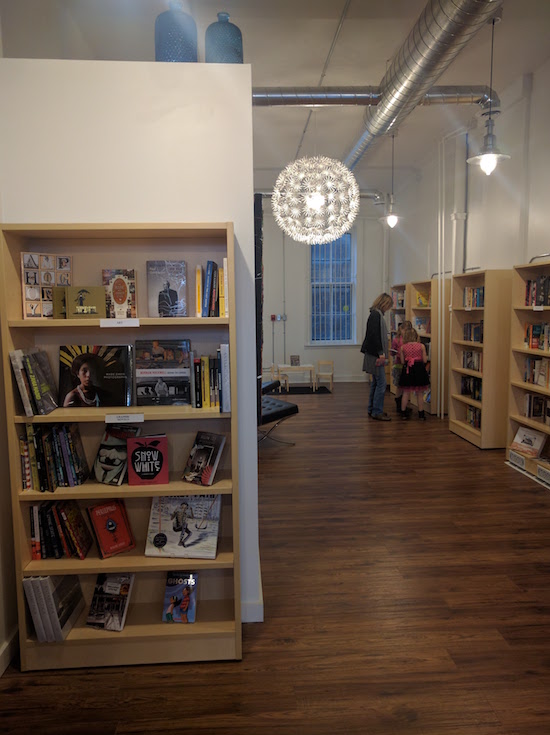 And so the stakes were high. This trip to Peterborough has now cost us perhaps $1000. Hunter Street Books had better be worth the journey and the damage. But I had a feeling it would be. A brand new bookstore in the city I'd grown up in—I knew how much downtown Peterborough needed a store like this. I knew how excellent it was that writer Michelle Berry had taken a chance on a new business. I'd seen photos online of the space and it was beautiful. Though, as always, a true mark of the store's goodness would be the quality of the books on the shelves.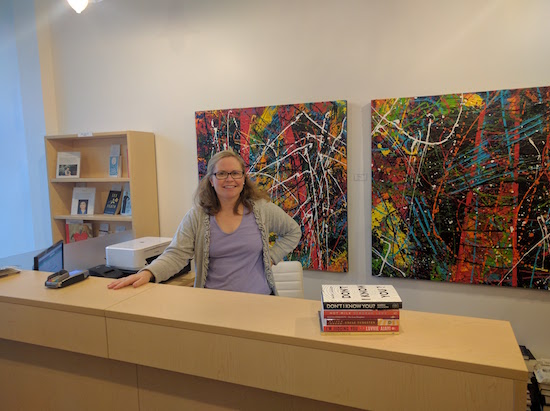 Well, Reader, I bought them. The books, I mean. The books I'd planned on buying, because Michelle had them in stock and facing out even—did she knew I was coming and was intending to purchase a copy of Elena Ferrante's The Lost Daughter? And Hot Milk, by Deborah Levy? And then I ended up buying I'm Judging You, by Luvvie Ajayi, which I hadn't known I'd needed, but Michelle made me realize. I bought Marnie Jackson's new book too, because I'd only had an ARC and it's stayed on my mind in such a way that I realized I needed something more substantial.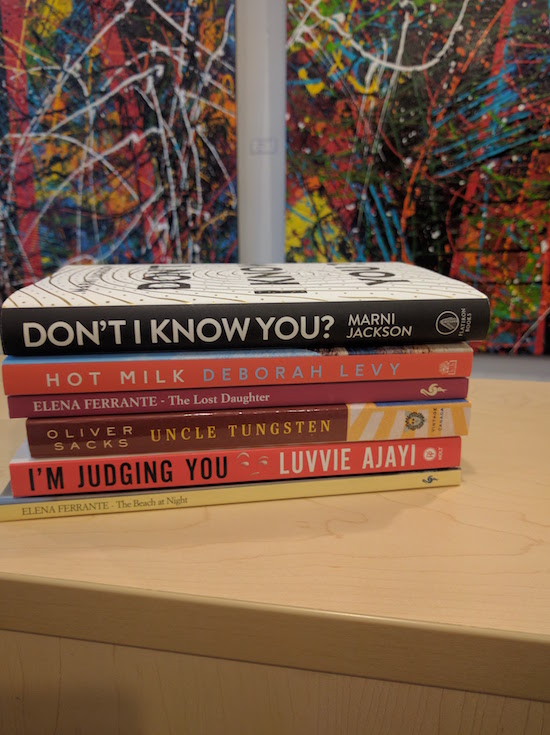 I go to a lot of bookstores. I've been to ones that are good, bad and middling, and my standards are higher than most people's because I've been around a bit and because I have a million books at home already. You have to be more than adequate to satisfy me. You have to stock small press titles and prize lists and the books everyone has heard of and those we haven't yet. You have to have both of Anakana Schofield's novels and Double Teenage, by Joni Murphy, facing out. You need mysteries and commercial favourites and Maria Semple and books in translation. You have to stock all the books I love best, and the ones I'm still looking out for. And Michelle Berry has done it all—Peterborough is so lucky.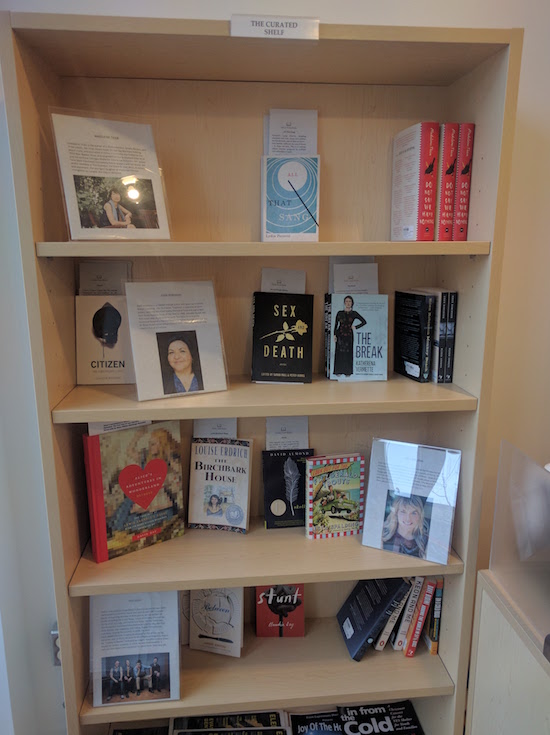 Check out the curated shelf, with picks by Dave Bidini, Esta Spalding, Eden Robinson and Madeleine Thien. (Madeleine Thien used to have more books on her shelf, but people bought them all). These books are selling well, Michelle Berry says—and then she asked me to curate a shelf of my own for January (and just you wait and see what I've come up with…)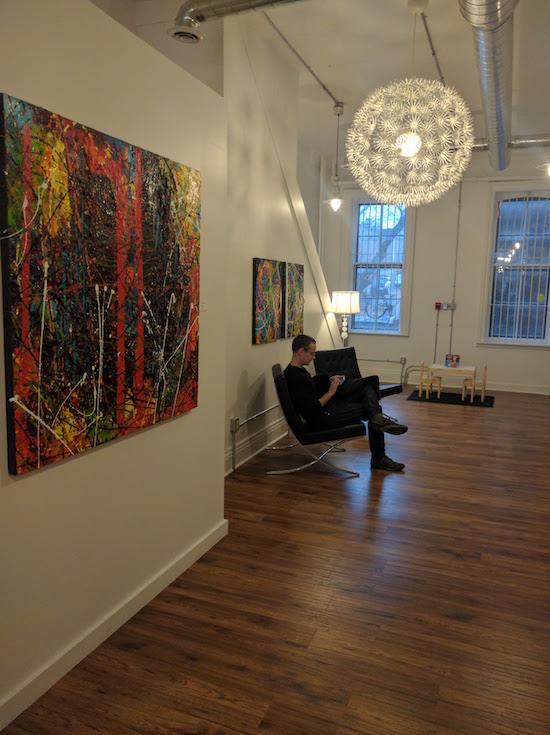 The space is big and airy and full of light. My husband reports that the chairs are comfortable—and he's sat down in a lot of bookshops. More than that, he also had a good time browsing—the Oliver Sacks book in our stack was his pick. And then he sat down and waited for me to finish exploring, and he was happy to do so. He saw it coming when I hung up my coat on the rack by the door—we'd be there for a while I perused every shelf. A small table and chairs is set up in the back for littler readers. There will also be space for events in the New Year, and I can foresee this being a very good spot for literary-minded people to come together.
And they already were—coming together, that is. I took a photo of the line at the till, for lines at tills in bookshops are my very favourite thing in all the universe. I'd happily wait in one forever. Well done, Michelle Berry, for supporting local authors, boosting your downtown community, putting more books in the hands of people of the world, and for doing it all so well. You've made the world a more beautiful place, and I can't wait to come back.
Although next time I'll try to drive more carefully.