September 29, 2016
GIVEAWAY! A Squiggly Story, by Andrew Larsen and Mike Lowery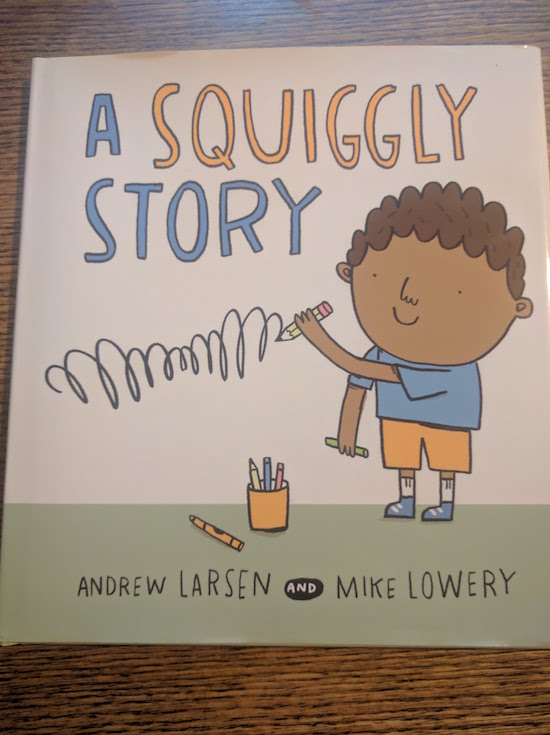 Before my daughter Harriet went to junior kindergarten, she was determined to never be taught anything—by me, at least. I'd read somewhere that a child entering school should be able to write her name, and so that was a benchmark, but Harriet was having none of it. She didn't even draw pictures. The only thing she ever had to do with paper was taking a pair of scissors and cutting paper into a million tiny pieces, scattering them across our carpet like cheerios.
She did, however, have a notebook, and this was the only bit of "writing" she was willing to be known for, filling page after page with curly lines, the closest she'll ever get to cursive.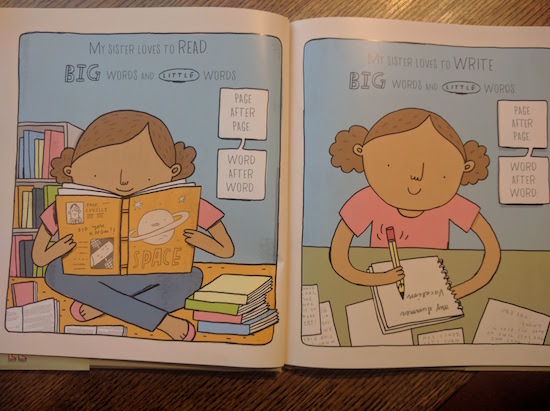 And then she went to school, and it was there the magic happened. Somehow our girl learned to write and to read, and she reads all the time and everywhere, and she writes all the time too (even if her handwriting is atrocious). She makes comics and stories, and she and her friend have written a book at school that they've read to kids in the other grade two classes.
And because of Harriet's example, and because she's a different person altogether, Iris has a completely different relationship to text and writing than Harriet did at her age. Iris draws amazing pictures, and sits flipping through page after page in novels, and she's learning her letters—when she sees an "S", she will shout, "My Daddy has that one," as if it were some sort of affliction. She knows her classmate's initials and becomes indignant when a word beginning with A does not actually spell Alma, as it tends to at school.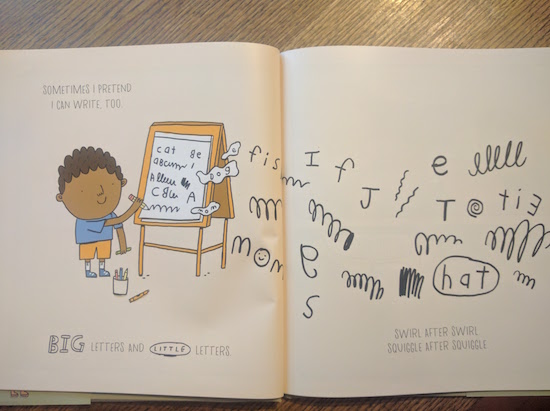 Most of all though, Iris is partial to her own letter, which is I, and her sister's H. That the letters fall side-by-side in the alphabet did certainly occur to me when we named Iris, and I also love that an H is an I sideways. They're often found together in words as well, and Iris is delighted by all of this, finds it intensely meaningful.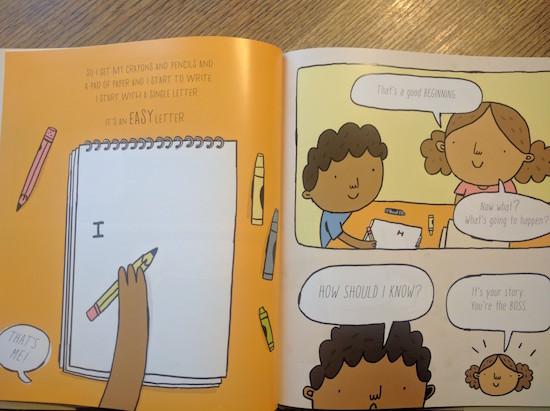 So you can imagine how Iris felt when she saw the above page in Andrew Larsen's latest picture book, A Squiggly Story, illustrated by Mike Lowery. I is, of course, a letter than is intensely personal to anyone narrating their own experience, but Iris simply took for granted that this was a book that was created just for her.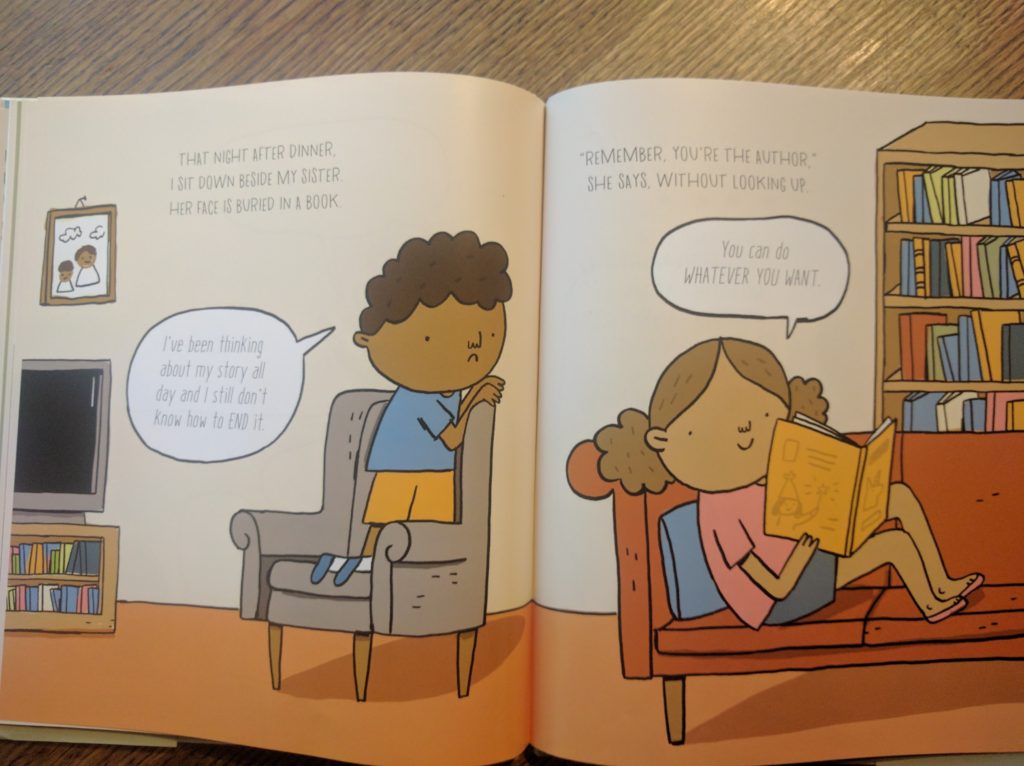 And in a way it was, a book just for her, among many other readers. It's about a boy who longs to be as deft with words and letters as his older sister, to write a story, and she tells him there's no reason why he can't—even if he doesn't know how to write words yet. "Every story starts with a single word," she tells him, "and every word starts with a single letter." This breaking down into smaller pieces concentrated on one step after the other (and another after that) being the best writing advice I know.
So the boy begins his story, a story with I's and circles and an upside-down V (i.e. a shark fin! This is not a boring story). Empowered by his own creation, the boy takes his story to school and shares it with his classmates, inspiring them to come up with stories of their own and suggestions for his ending. And coming up with one story, of course, makes him think about what kind of story he's going to imagine next, and the possibilities are endless—a squiggle can be so many different things.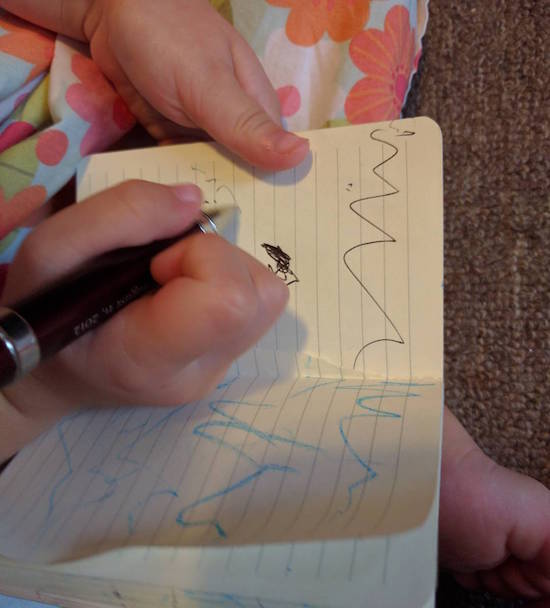 Andrew Larsen is my friend and we've had many good discussions about books and writing, and one topic we keep returning to is our distaste with the idea that the outcome of a narrative should necessarily be a protagonist learns a lesson—it's such a simple minded approach to the role of story in our lives and our experiences. And I love that Andrew's work reflects this—his are stories that serve to illuminate rather than preach. But a very cool twist is that within his stories I do always find a worthwhile lesson for me, the grown-up reader, to ponder.
"Remember, you're the author," the boy's sister tells him. "You can do whatever you want."
Fine advice in the writing of a story, but also in the making of a life.
GIVEAWAY: I have an extra copy of A Squiggly Story that you can have a chance to win. Comment on this post and tell me your favourite punctuation mark, and why you love it, and you will be entered in a draw. Canadian residents only. Giveaway closes October 14.  October 20.