June 22, 2015
A Pitying of Doves by Steve Burrows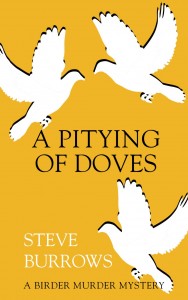 Steve Burrows' first Birder Murder Mystery, A Siege of Bitterns, was one of my favourite reads of 2014, a smart and absorbing novel that introduced the enigmatic Chief Inspector Dominic Jejeune, reluctant police superstar, avid birder and expat Canadian on the Norfolk coast. I loved the premise, was drawn in by the character, and admired the intelligence and fun of Burrows' writing—and that the mystery's solution hung on a point of grammar. So ever since I've been looking forward to the second book in series, A Pitying of Doves.
And I was not disappointed. Book two finds more bird-related murder and mayhem in Norfolk (and really, how can Jejeune ever doubt that he's where he's meant to be, a place with not one but two murders in which his ornithological background is useful). The book begins with a rather gruesome scene at a bird sanctuary where a researcher is found dead beside the body of a Mexican consular official. The powers that be are eager to have the diplomat found innocent of all wrongdoing in the interesting of international relations, but nothing is that simple. Is the case connected to two missing Turtle Doves from a local private aviary whose Mexican owner mysteriously vanished years ago? And what about the bird carver whom neither Jejeune nor his girlfriend Lindy trust completely? Meanwhile, Jejeune's partner, Danny Maik, is obvious to love right in front of him, and he's grappling with his own problems. With twists, turns, and plenty of peril (including a dramatic scene on a cliff face), Burrows plots his way to the finish and Jejeune triumphs again. But does the triumph even matter to him? And what's with the apprehension by officials in St. Lucia? What ghosts are our birding hero still running from?
Burrows is beginning to fill out Jejeune's backstory, which was tantalizingly alluded to in A Siege of Bitterns. I feel as though this is a series just begging for a prequel. And while the novel requires a certain suspension of belief—a few twists were the result of very convenient coincidences, and does it really seem possible that everything relates back to birding—it was a fun, smart and satisfying read just like its predecessor. Its a novel with a sense of humour too—the birding motif is tongue-in-cheek when it needs to be. But with enough depth and intrigue via great characterization that the story is as meaningful as it is a pleasure.