June 16, 2015
Making the world more beautiful…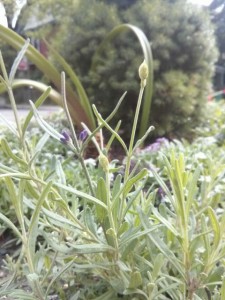 Speaking of Miss Rumphius, we've been lucky enough to find a way to make the world a more beautiful place this summer. We live in one of those annoying (if you're driving and want to get anywhere quickly) downtown neighbourhoods—literally a five-minute walk from where Jane Jacobs lived—in which the streets only partway belong to cars, and a one-way system has turned side streets into a maze. The one-way streets are indicated by concrete planters that block access to the road, but which haven't been maintained regularly so that more than a few of them have been filled with weeds and garbage in recent years. Until this year, however, when the neighbourhood residents association went looking for people to "adopt" planters, and we volunteered. We didn't even have to do the hard work. Another neighbour dug up the weeds, filled the planter with new compost, and planted a shrub.
And then it was over to us, and one day in May we planted alyssum and two lavender plants. We probably should have been more strategic and creative about what to plant, but we were keen and impulsive, so went for it. Happily, the flowers have spread and the garden is lovely now, and when we walk by on our way to school every day, our children bid the planter, "Good morning!" Every evening after dinner we head down the street with our watering cans and give the plants their drink.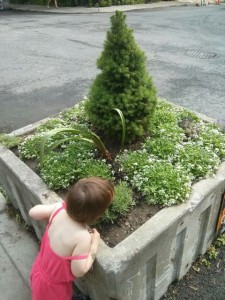 There is also now a palm plant in the garden that looks strange and out of place. One day I arrived to water the planter, and someone had left it there for us, quite deliberately, it seemed, the bulb nicely preserved. Now, I've heard of people stealing plants from gardens but not so much anonymously bestowing them, and so in order to encourage such behaviour I planted the bulb. Community spirit and everything. I don't know who gave it to us (or what the plant is!), but I do know that taking care of our planter has connected us with our neighbours in the most fantastic way. We've met people out-and-about while we've been watering, and heard from others who appreciate the cleaned-up planter and have volunteered to do the watering while we're on vacation this summer.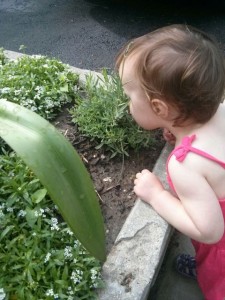 It's only June, but we've already got a best-part-of-our-summer-so-far. We really can't walk past our planter without Iris sticking her nose into the lavender. It's just about that point in the season where nature explodes with fecundity, so we've got weeding to do and the flowers are spreading fast. And I love that this experience is teaching my children about community involvement, how gardening can be revolutionary, about simple biology, and they're learning responsibility too—which is important because we're never ever getting a pet (no way!). They don't even feel ripped off (yet) that instead of a pet, they've got a concrete box that stops traffic, but of course it's so much more than that, as Jane Jacobs herself would attest.