September 29, 2014
May Friedman on Mommyblogs and uncertainty as a valuable critical end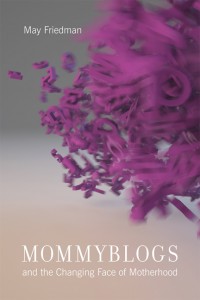 "In trying to form conclusions about mommybloggers—and about mothers—I am reminded of my children attempting to jump upon their own shadows: I am attempting to trap an essentially untrappable form of knowledge. After the initial discomfort and frustration that this inconclusive conclusion elicits, however, I have found that there is much to gained, as a researcher in general and as a motherhood researcher in particular, in looking instead at uncertainty as a valuable critical lens." –May Friedman, Introduction, Mommyblogs and the Changing Face of Motherhood
This is a kind of criticism that does not pit the critic against the text, does not seek authority. It seeks instead to travel with the work and its ideas, invite it to blossom and invite others into a conversation that might have previously seemed impenetrable, to draw out relationships that might have been unseen and open doors that might have been locked." —Rebecca Solnit, "Woolf's Darkness: Embracing the Inexplicable" 
It pains me to link to this smug and stupid post I wrote in May 2009, just 11 days before my first child was born. When I purported to understand anything in Rachel Cusk's A Life's Work, because I really didn't. And when I tried to pin down mommybloggers, detailing my discomfort with the form, and my discomfort with that discomfort. I thought I had it all sewed up, because I was surer of things then, and I had no idea of the seas of uncertainty I'd be wading into when it came to mothering, motherhood, and issues around motherhood. Five years later, The M Word was to be partly my means of coming to terms with the beauty of the mess of it all—when in doubt, make an anthology.
When, three months after that embarrassing 2009 blog post, I reviewed the book Mothering and Blogging: The Radical Act of the Mommy Blog by May Friedman and Shana Calixte, my thinking had evolved somewhat, but I was still pretty stupid. (This is the curse of any blogger: you are forever presented with undeniable evidence that you were pretty stupid. And that mostly likely you still are.) But I was getting a sense of things—that motherhood and any ideas surrounding motherhood refused to stay put in my tidy pat conclusions, and that there were many women who didn't want even them to.
May Friedman's new book, Mommyblogs and the Changing Face of Motherhood, occurs at a pivotal intersection in my writing life. Outside of my blog, it is my writing about motherhood and my mothering life that has found most resonance with readers, so much so that when a recent published story contained nary a reference to mothers anywhere, I was a bit relieved. And I've also been blogging for 14 years this October, which has led to the opportunity to teach the course, The Art of Blogging, at the University of Toronto (whose latest session starts a week from tonight!). In my blog teaching, I embrace and celebrate the messy chaos of the blog form, as unpindownable as mothers are. (You can read my posts with thoughts on blogging here.) I welcomed the reflections, revelations and insights of Mommyblogs and the Changing Face of Motherhood not just for what they had to say about mothers and mommyblogs, but for the perspective the book provided on the history and implications of the blogosphere with a lens on women (who, as in any history, are so often left out of the story).
True confession: I have an allergy to Foucault, and once they start referencing Bahktin, they've already lost me. As an academic text, Friedman's book stands apart from others that I've encountered in that her critical framework serves to transform the familiar into something altogether new, rather than rendering it intelligible. In Mommyblogs and the Changing Face of Motherhood, she examines mommyblogs in the frameworks of hybridity (as a form, of the identities of blog authors, of the experiences of readers), cyborgs (of the author and her text via technology, and also of the complex and nuanced networks created through blogging communities, how mothering is reworked away from being an individuated task) and Queer theory (a movement away from the patriarchal institution of motherhood toward an otherness) to show that mommyblogging is indeed a radical act that has already changed the way motherhood is regarded in the public sphere, and whose further implications are still before us, rich with possibility.
It is as applicable to that mythic blogosphere as a whole what Friedman has to say about "the mamasphere": "It is precisely because it is impossible to say anything generalizable about the mamasphere as a whole that it is a radical maternal space; not as a result of the activism of individual mothers, but because of the implications of all these narratives coexisting, and the endless unspooling dialogue that therefore emerges." That lack of generalization doesn't freak me out anymore, and I appreciate Friedman's excellent book for reminding me why certainty is anathema to everything I like best about the world, both online and off.
See also: "Mary Pratt, On Blogging, and Preserving Light and Time"