September 3, 2014
Interference by Michelle Berry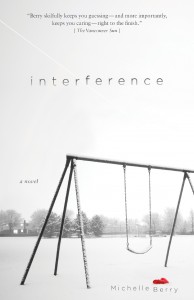 Edgewood Drive is a leafy street, the kind of place where one could rake all day, and there'd still be leaves all around. Which is where Michelle Berry begins her novel, Interference, in the fall, neighbours with reason to be out of doors, waving to one another across driveways, while the faces of their houses—all windows and doors—reveal nothing at all. The scrape of their metal rakes on sidewalks just the one thing about the scene that is a little bit "off", until a strange man appears, a scar right down the middle of his face revealing everything, or at least some kind of brutal tragedy in his past. He's looking for work, and there's more than enough leaves to go around. The man helps out, bagging leaves, though there is something particular about the way he looks at the children, and then he disappears without waiting to be paid. And this is only the first of a series of disquieting events that occur to the residents of Edgewood Drive, imbruing everything that follows with a slightly sinister edge.
Sinister coupled with comedy though—not everything in the book is dark. Interference is a novel comprising short stories, and in between them appears correspondence from the school principal, the ladies' hockey league coordinator, email exchanges. The everyday absurdity of these messages gives the novel an additional layer of ambiguity: is modern life, with its stranger-danger warnings, just one giant farce? Are we to laugh at the residents of Edgewood Drive, with their silly preoccupations and neuroses, for playing into it all? Or are we to actually feel for them?
Claire. who's countering cancer with a ferocious anger; Dayton, who has fled her cheating husband but not before stealing his money, is aware the past is going to catch up with her soon; Trish, who's on the verge of a breakdown, her custom-teddy-bear company being services from a big-bear-conglomerate; their husbands, and their children; all of these lives weaving together and apart over the course of a fall, and winter, and into spring. The usual domestic upsets countered with darker things, reverberations from the appearance of the man with the scar—men lurking about school yards, news of a local child porn/pedophile ring; a strange little man who speaks with a peculiar tic who keeps turning up in odd places and upsetting people with lurid images in the pamphlets he displays.
As a native of Peterborough, I enjoyed Michelle Berry's thinly veiled portrayal of my hometown, with its hockey culture, small town principles, and strange characters. The connections between her character are surprising and illuminating, rounding out the book into a convincing whole. Berry shows that the domestic setting is one worth examining, that home is not always a safe place, that the tangles of family and neighbourly relationships are unfailingly interesting, particularly in a plot so charged with suspense. Though there were times when the drama verged on melodrama, and each chapter seemed to end with a revelation, which felt a little pat. The characters were all so passive too, necessitating the addition of the underlying plot, which seemed manufactured. They were all such great characters—I kept waiting for them to do something. 
But the passiveness was deliberate to the construction of the novel, that these are characters for whom life comes along to do some interfering with, best laid plans interrupted. And still the seasons go on changing, as though none of it matters at all. The one thing anyone can count on: that  the world will go on; there will be leaves to rake again.