November 18, 2013
Breastfeeding Carnival: Send in the Nipple Clowns
This post is part of the first Humor in Parenting (and Breastfeeding!) Blog Carnival inspired by the anthology Have Milk, Will Travel: Adventures in Breastfeeding, a collection edited by Rachel Epp Buller and published by Demeter Press in August 2013. The anthology looks at the lighter side of nursing. All of its contributors found something funny to say about their days as a non-stop milk shop, even if it was a tough job to have.
This carnival celebrates the craziness that is parenting and asks the question of how we use humor to get through our days, or minutes, or years. Just what's so funny about being a parent? And why is it so important to make life with kids funny even when it doesn't exactly seem hilarious?
Please share widely and connect us with other funny parents who are blogging and Tweeting. Use the hashtags #funnybreastfeeding and #humorcarnival along with whatever witty originals you come up with. Those ought to be worth some laughs, too!
See below for links to the other contributors. And, as you might have said to your nursling once upon a time, enjoy the buffet!
***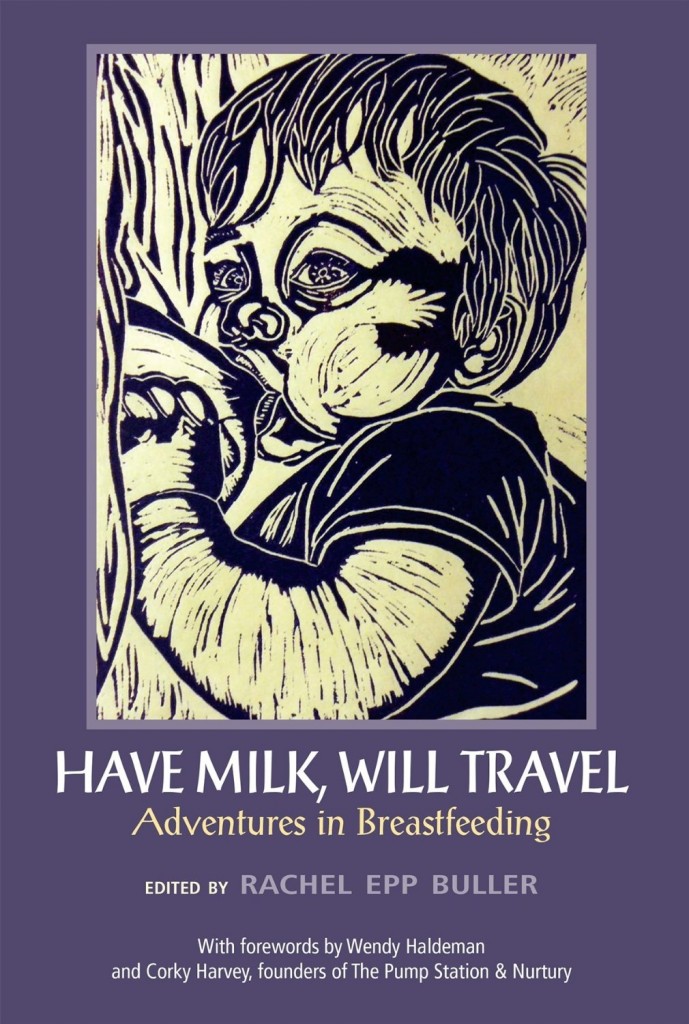 Two years ago, someone told Similac  that I'd had a baby, even though I hadn't, or at least not for some time. But regardless, a huge box was couriered to my doorstep containing cans of liquid formula and a great big tin of the powdered stuff. I was kind of outraged, committed breastfeeding mother that I am. My daughter had recently been weaned at 2.5 years, a peaceful end to a pretty lovely breastfeeding experience, and I've been trained to  be wary of formula marketing schemes. All the same though, I put away that tin of powdered formula deep in the cupboard, supposing we'd have another baby someday. Everybody's got a secret stash of something. And I wondered what I'd done to make Similac so confused. (Six months later and six months after that, I'd receive new packages from Similac congratulating me on my imaginary baby's latest milestones, and including coupons for our next visit to Walt Disney World.)
**
Now imagine a montage, the comedy story of my breastfeeding life. Because breastfeeding comedy? I've known breastfeeding comedy. (Note: when you haven't slept more than 3 hours in a row in 6 months, nothing and everything is funny.) Like when my baby was new and my breast was bigger than her head and she cried because it scared her. None of us blamed her.
This feature is shot on various locations, the first being at the zoo this summer as we sprinted toward the pandas in attempt to avoid the lineups, a jiggly shot from behind with my whole back exposed, me yelling at my four-year-old to hurry up. We got there, and the pandas were sleeping, of course, but at least we missed the lines. And the baby got fed.
All this flurry was so new to me. I never breastfed while mobile with my first baby, instead requiring soft-lighting, two pillows behind my back, a mid-range breastfeeding pillow, a good book and cup of tea in order to complete the transaction. This is also funny. Whereas with Baby 2, it's not just at the zoo; I find myself breastfeeding on the subway while chaperoning a group of 15 children on a class trip. I've breastfed on a ferry boat, on a crowded streetcar, in the car while speeding down the highway.
**
But let's go home now, back to the beginning for a shot of me and Baby 1, who at six weeks old decided that she would only feed without screaming if I rocked back and forth while nursing her. I don't remember how long this went on. It was hard, and sometimes I spilled my tea, but we made do. I remember a Facebook conversation at the time with someone who suggested that if breastfeeding weren't easy, we were doing it wrong, and how I laughed and laughed. Comedy gold. Zoom in next on my mother's anxious face as I tried to feed the screaming baby around the same time. "Maybe you don't have enough milk?" she suggests, to which I respond by squeezing my breast, milk shooting across the room. "I don't know," I replied. "What do you think?" Not so secretly delighted because I'd been dying to pull off such a stunt for ages.
It is possible that the second-greatest pleasure of my breastfeeding life has come from horrifying people. This was a huge draw to breastfeeding my first baby into toddlerhood. We even had a plan, my husband and I. We were going to pump like mad with Baby 2 so that I could have a life of my own and also so that we could make breast-milk ice cream. We were going to make breast-milk ice cream so that we could eat breast-milk ice cream, but moreover so we could tell certain people that we had eaten breast-milk ice cream. "It was delicious," we imagined reporting. "We flavoured it with mango."
Unfortunately, that part of the movie never got made. The breast-pump we borrowed was fourth-hand, and the motor didn't work. We tried it twice and it sounded like a dying cow, and so we pulled out the manual pump instead. Not so much for the ice-cream now, but because I had this fantasy of leaving the house for two hours when the baby was nine weeks old. But just as had been my experience with the first baby, I pumped and pumped and nothing came out. My midwife had suggested that perhaps I try pumping while not reading a novel. "You have to be thinking about your baby," she said, but I didn't understand that. In my mind, there was a direct correlation between lactating and reading and I didn't want to know how to do the one without the other.
Desperate times though–we figured out a way to make it work. Picture this: during one Sunday in August, every time the baby fed (which was often), my husband would hook the manual pump to the breast she wasn't feeding on and he would pump until his hand cramped. And how that milk would flow. He ended up with carpal tunnel, but we managed to fill an entire bottle, and I even got a couple of chapters read, though it was awkward to hold my book with him there.
Of course, when I went out, the baby wanted none of it. This is when the scene transitions from comedy to horror. All that effort was poured right down the drain, and then we put the manual pump away too, the way we always did, and consented to use formula instead when I went out by myself. As though we had control over any of this. I still had that tin of Similac left over from my imaginary baby. My actual baby, however, was as uninterested in the formula as she was the pumped milk, so now I just go out and she cries a lot.
Life is a compromise.
It is terrible and exciting that she starts solids in two weeks.
***
Please check out these the other submissions to our humor carnival:
In "I Will Sleep When I'm Dead," Zoie at TouchstoneZ needs some sleep but her kids have other ideas.
In "Laugh or looney bin," Virginia of Ready or Not Mom shares how laughter (and tears) got her and her husband through two NICU stays and a whole lot more. "Just call me Bessie…on the move" shows some love for a nursing mom without a lot of spare time on her hands.
In "Boobs Are in the House," Jenny of Half Crunchy Mom shares how her love affair with her nursing breasts was hindered only by the act of pumping, but she found a way to party with the pump.
In "Send in the Nipple Clowns," Kerry of Pickle Me This shares a story in which a mother who hasn't slept more than three hours in a row for six months reflects back on the comedy of her breastfeeding life.
And, from Have Milk contributors:
In "The importance of laughter," Jessica Claire Haney of Crunchy-Chewy Mama gets serious about looking for humor with her kids where her own parents didn't.
In "Underwater" and "Excuse Me," Adriann Cocker of Cockerchat muses on the absurdity of parenting while leading a hip loft lifestyle
in downtown Los Angeles.
***
To learn more about Have Milk, Will Travel, or to buy a copy for your favorite mom (or the people who love her), visit the Have Milk page at Demeter Press or on Amazon.
See how much Literary Mama liked the book at this review.
Keep up with readings and happenings on Facebook at https://www.facebook.com/HaveMilkWillTravel and follow the book's feed on Twitter at @HaveMilkTravel.