January 6, 2013
Whitetail Shooting Gallery by Annette Lapointe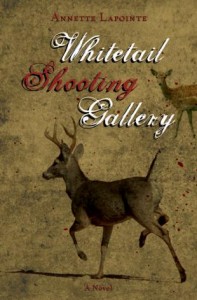 Imagine Alissa York's Fauna but in rural Saskatchewan and with all the sentimentality stripped away. Imagine lots of sex, kissing cousins, a gunshot to the face, and a set of teeth that get kicked in over and over again. Imagine a family farmhouse, country roads, the kind of place you might want to move to raise your kids if you don't look too closely. The hockey player, the pastor's daughter, how he's giving blow jobs to his teammates, and she's having sex with her best friend. All those things that go on down in teenage caves in the basement, the kinds of people who live in holes in the ground, poring over pornography, vampire novels, Flowers in the Attic, scarcely coming up for light.
Oh, and horse books. "It's those damn fillies again. They're everywhere. That particular shade of sun-drenched blond hair spontaneously generates short fiction for girls when nobody's looking." And in a sense, this is a horse book, but not in the way you think. Jen is big, not at all graceful as she scrambles up on her horse's back. The book begins with gunfire, buckshot in her horse's neck, and Jen's own body is full of holes. The shooter was her cousin Jason, the circumstances behind the incident quite unclear, and clarity never really comes, the plot circling around the mystery over and over, as two decades pass.
"Clarity never really comes." I think this sentence is important, actually, as Whitetail Shooting Gallery baffled me thoughtout, disturbed and troubled me, but it also intrigued me, continually surprised me, never stopped me wondering what would happen next. It's an anti-pastoral, a complicated portrayal of rural life. It's the story of Jen and Jason, two cousins whose relationship was always strangely tangled or predatory, who drift apart in their teenage years. Jason is troubled by his shattered family, and while Jen's family remains strong, her parents don't really know her. She struggles to reconcile her feelings, her yearnings, her body, with expectations of womanhood. (Significantly, at the arena where Jen teaches figure-skating and Jason plays hockey, the girls' change room is labelled "Visitors"). She runs around with a pack of wild girls, girls with fleshy bodies, hair, nails and teeths. They're all a bit feral, and they long for lairs, the kind boys get:
"If Jenn were a boy, she'd have claimed the family basement for her cave. It would be her birthright, She'd have crawled underground and lined her cement cave with clothes and animal hair, and she'd plot how to capture her chosen other-person, how to drag them down into the dark and chew on them."
The narrative follows Jen and Jascon through their teens, twenties and into their thirties, and demonstrates how each is shaped by their early years, by the peculiarities of the land that bore them, what is possible to be overcome and what isn't. Both continue to have their closest relationships with animals, Jason with the ferrets and lizards he keeps as pets, and Jen ending up working in a zoo. The line between humans and their fellow-creatures remains ever-blurred, which is one of the most interesting parts of the novel, of so many.
Annette Lapointe's literary reputation was established with Stolen, which was nominated for the Scotiabank Giller Prize in 2006. And here in her second book, she's turning Can-Lit on its head, challenging not only her readers' sensibilities, but also ideas about what a novel should be. And the latter seems to be a requirement for the kind of book that I like best.