March 30, 2021
Don't Make Plans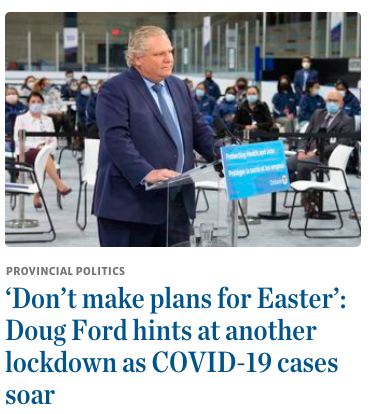 Is there any way that I can possibly convey just how exasperating it is for Doug Ford, 13 months into this pandemic, to be telling me not to make plans?
Doug Ford, whose entire approach to handling the pandemic has been "no plans," whose approach to school re-openings was LITERALLY "Let's give this a shot, at least…and pray to god that everyone's safe." Doug Ford, who campaigned for the job of premier with a platform of "no plan," whose Ministry actually thought it was totally okay for teacher-librarians to be finding out on Labour Day that the next day they'd be teaching kindergarten. Whose whole plan for the second wave was to do nothing until the pandemic was once again out of control, and whose plan for averting a third wave was to open up the province again while infectious variants are rising. Whose vaccine roll-out plans have been definitively NOT GREAT?
Who ever could have seen this third wave coming, not to mention the second one?
Um, EVERYONE.
Right now, teacher's unions are advising the province to move schools to virtual after Easter weekend, and then keep our delayed Spring Break, which I think sounds like a fine plan, but because this is a government that prides itself on not listening to unions or people who know things, perhaps they're probably not going to take that advice, and this is the kind of instability that's been a hallmark of this group of ding-dongs since they were elected.
And maybe the Premier doesn't make plans, but I do. Like everyone, I had plans for 2020, plans that got cancelled one after the other, and I've been mainly uncomplaining as I cancelled those plans, because some things can't be planned for and you can't control what happens (when you're not the government), but instead how you react to it. So I've stiffened my upper lip, and gone without seeing friends and family, and my children have been brave as they've made giant sacrifices in their own lives, and I've tried to live up to their example, and so it was with Easter last year, and I cancelled our plans for an outdoor Thanksgiving, and Halloween, and Christmas was my mom coming over in the afternoon with us all wearing masks and the windows open, which was freezing, and I haven't seen her since then. We had picnics in the park six feet away from friends in the summer, but haven't socialized with people outside our household since our kids returned to school, and I'm still not complaining, because you've got to do what you've got to do, and also I continue to be so grateful that we've all been healthy.
But today I hit my limit. I am finished with having all my plans cast aside because of this government's complete lack of a plan, and over and over again. This is not like last spring when nobody knew what was going to happen, or what actions would be necessary to control the spread of the virus, when all of us (including the experts) were still in the dark. For months, medical experts have been advising the government to implement paid sick leave to slow the spread in workplaces. Others have been advising widespread testing and tracing, particularly in schools, and this still hasn't happened. There are all kinds of plans that could have been put in place to avert this latest wave of Covid, and the government has heeded none of it.
And now the Premier has the nerve to tell me not to make plans for Easter? When Easter is literally FIVE FUCKING DAYS AWAY? With absolutely no respect, Doug Ford (because it's been a very long year), you've got no business advising anybody about plans, or messing with mine, because it's your absolutely failure to plan that's resulted in our current disaster.
Doug Ford telling me not to make plans for Easter is so absolutely patronizing, disrespectful, and insulting.
Doug Ford telling me not to make plans is like the pot calling the kettle a failure of leadership. It's like the doctor who missed the diagnosis complaining about the funeral. It's like the guy who pisses on your boots, and tells you that it's raining, and then hands you a ticket for standing in a puddle.