March 29, 2021
Summerwater, by Sarah Moss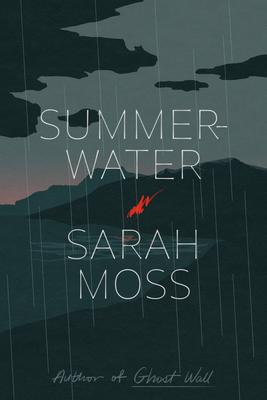 Dread lurks in Sarah Moss's Summerwater from the opening pages, from the book's description on the inside cover, in fact. From the cover itself, which dark and foreboding, and this is such a pandemic novel, though not explicitly. The reference on Page 6 though: "There won't be a plane this summer, or next. Who could afford to travel now."—just a little uncanny. It's a very contemporary novel in its immediacy, in the vein of Ali Smith's seasonal quartet, but less overtly. There's a Brexit backdrop though, and it matters a lot, questions of us and them, who belongs and who doesn't. Set in Scotland, which complicates things even more, at a holiday resort with a handful of cabins nearby a loch, and the weather is dreadful. There is nothing to do but stare out the windows at the unceasing drizzle and also then at the other holidaymakers, each of them mysteries to each other (and to themselves). The skinny mother who insists on going running every morning, the old man who is frustrated by his wife's increasing infirmity, the young couple on the cusp of a lifetime together, the couple with the little girl and the baby, the grumpy teenagers and their embattled parents, everybody more than faintly annoyed at the people staying in the one cabin—are they Romanian? Ukrainian?—where loud music plays into the night.
Isolation, paranoia, mistrust and frustration colour the various narratives, everybody isolated, far away from WiFi and phone signals. Moving between various dwellers of the resort, each character's perspective is absorbing and fascinating (and also very funny, moving, illuminating, cringe worthy, etc.) Offering clues that suggest something foreboding, though I never called it right, what actually happened, and it was terrible, but also very satisfying, in the way that devastating conclusions aren't always—and surprising too, casting the rest of this story in a very different light. Not a spoiler because I am quoting from the cover copy again: "It is the longest day of the year, and as the hours pass imperceptibly, twelve people shift from being strangers, to bystanders, to allies…"
I love a short book, one that can read in a day (especially a day that is rainy). Summerwater is a short novel that will never be called "slight," and it might be just the thing for a reader finding their pandemic brain is having trouble with focus. I really loved Moss's previous book, The Ghost Wall, and this one is similar in scope, though also its own creation entirely, and very much recommended.