March 15, 2021
The Spaciousness of Uncertainty: Hope Matters, by Elin Kelsey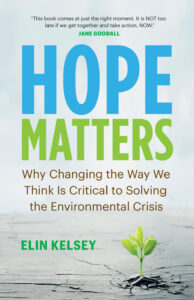 In this year of pandemic anniversary reflection, I have been thinking a lot about hope, which I think has been my own personal guiding force through this particular crisis, and has served me remarkably well. I just erased a sentence here about this being excusable since I am neither an elected official nor charged with responsibility for public health…but I actually think that hope should be a part of public policy. Not thoughts and prayers hope, but I can't help thinking of last summer and how autumn could have been different if the public had received more concrete messaging about the ways their actions in the first wave had made a difference, if instead of the news media focussing on the inevitably of a second wave, they had expanded the narrative to include other possibilities. ("The ones who tell the story," says Ali Smith, as I have quoted on this here website six hundred billion times, "make up the world.")
All this thinking compelled me to pick up Elin Kelsey's Hope Matters: Why Changing the Way We Think is Critical to Solving the Environmental Crisis and one thing I had not been expecting was that this would be the YOU'RE WRONG ABOUT… regarding the crisis of our dying earth:
"Whenever we straitjacket an idea or issue into a single monolithic story…we lose the nuance and specificity of context. We miss positive developments and shifts in perception. We are left with an oversimplification that is so generalized it becomes inherently inaccurate."

Elin Kelsey
It's not that the challenges facing the planet aren't dire, but instead that the presentation of these challenges is creating another crisis of mental health, and further, it's all enough to make many people respond by throwing up their arms and deciding there is no point in even trying, rendering doom a self-fulfilling prophecy. And a huge part of the problem is the way we get our news: never in all of human history has there been more opportunity hear directly and constantly about every single terrible or catastrophic incident happening somewhere on the earth. That part of the equation is as natural as the Great Pacific Garbage Patch, actually—and possibly just as harmful to ourselves and to the planet.
And so Kelsey suggests shifting the focus, underlining that there is no shortage of hopeful stories on the environmental front either, of habitats that have rebounded after devastation, stories of incredible resilience and recovery, of animals that have been brought back from the brink of extinction. These stories, she tells her readers, are presented as one-offs, if they're presented at all. And there will be others who will suggest that such stories will make people complacent, undermining the urgency of the crisis facing our climate and our environment—but Kelsey's evidence suggests the opposite, than when people are empowered to believe that their actions have an impact, make a difference, then they will indeed be compelled to act. Hope is a powerful force, and Kelsey uses examples of the last twenty years—a shift away from single-use plastics, people consciously decided to eat less meat in their diets, a movement that saw millions of people all over the world taking to the streets in 2019—to show that already there is so much positive change to build upon, and reason and incentive to keep moving forward.
As Rebecca Solnit writes, "Hope locates itself in the premises that we don't know what will happen and in the spaciousness of that uncertainty is room to act." Elin Kelsey's book inspires me to want to bother, and underlines that "wild and contagious" hope is not merely a privilege or indulgence, but instead is essential to help us both work through sadness and grief about what's happening to our planet, and then continue to take necessary action for a better world.