March 8, 2021
Half Life, by Krista Foss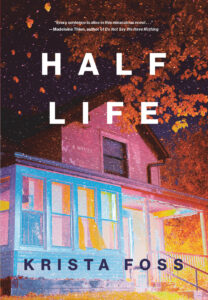 Half Life, by Krista Foss, is a tricky book. The first three words: "Knock on wood." It's a door, and somebody is banging upon it, waking Elin from her sleep in the mid-afternoon. My expectations confounded at every turn, but then isn't it fascinating, to think of knock on wood in the context of a knock at the door? A reframing. Wood and construction essential to the project here, but also fact of the fist's effect upon the door, the disturbance of atoms, and a set of events that will be put into play by whoever it is doing the pounding.
I read this novel over two evenings last week, and found it wholly absorbing, though not in a comfortable sense, as a book to get lost in. Instead, it's a novel full of booby traps and diversions, it's tricky, as I say. As you would expect from a novel about trauma and abuse, although this description makes the book seem more dour and less interesting than it really is. Perhaps what I can say is that Half Life doesn't ever sit still long enough to be about any one thing, and instead it's about everything—family, physics, furniture, money, houses, glassware, explosions, mythology, motherhood, and the pleasures of pipe smoking.
Elin Hendrikson is a high school physics teacher whose methods are being constantly critiqued by the new principal, she fears her 19-year-old daughter is nearly lost to her, and she's subject to her mother's wrath with her more-favoured siblings living out of town, out of reach. But the whole family is coming together again for a ceremony in which a gallery will be named after Elin's late father, a semi-famous modernist furniture designer, a household name in households where people know about such things.
It's going to come to a head—it's inevitable. And it's hard to look away as Elin cruises for a reckoning with her past, her present and her future, and decides to finally stand up for herself and assert her independence from her mother and overbearing siblings. But of course, she's not the kind of character for whom this will ever be graceful (which is why I love her—a scattered, messy, impossibly and achingly human kind of woman) so there will be drama, and lots broken glass, and wounded flesh and feelings.
I loved this book. I confess that I definitely owe it a second reading to get a full(er) grasp on the project, which seems to vast and ambitious, a novel that becomes its own universe, it seems, fully formed, down to every single atom, absolutely Woolfian in its attention to detail and nuance and destabilization. I found it fascinating, just as rewarding as it was a challenge, and ultimately such a triumph.