January 7, 2021
What I Read On My Christmas Vacation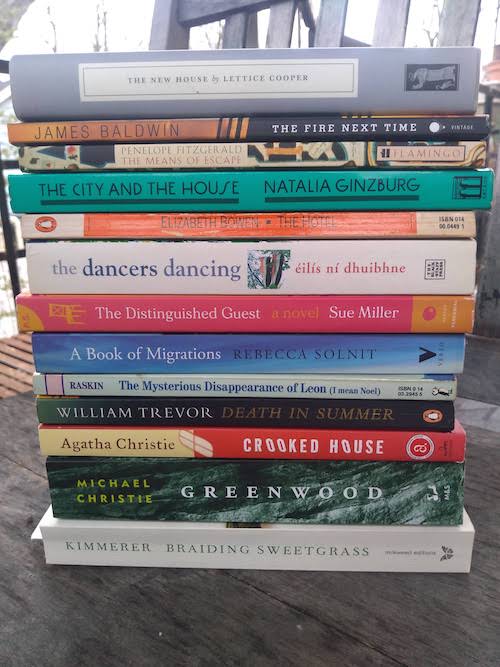 It's my favourite thing! Time to read! This December, I took a nearly two-week-holiday from the internet AND from the new releases that occupy most of my reading life to indulge in the titles that have been gathering dust on my shelves for one reason or another, books that are a bit dated, which seem like work, for which there does not seem to be any great occasion to finally pick up and read, and yet I keep them around, waiting for the moment. And that moment is now!
Though Michael Christie's Greenwood is not quite that kind of book. I bought this one last summer after three excellent booksellers (Kathryn from Lighthouse Books, Allison from Beggar's Banquet and Shelley from Blue Heron) had cited it as a favourite, but it's kind of long, and it's written by a guy, and I was just not that interested, even after Stuart himself had read it, and he made me promise I would read it too (because I have this obnoxious habit of not reading the books he's read, figuring that he's read it for both of us). And so it was the first book I picked up on the break, and was it ever wonderful. Stuart describes it as "like Cloud Atlas, but less annoying," and I just found it enveloping, and rich with hope, and such a marvelously bookish book. Three of out of three superstar booksellers AND Stuart can't be wrong.
I started reading Greenwood as I picked up Braiding Sweetgrass, by Robin Wall Kimmerer, which I feel like I'm the last person on earth to finally read, and I've opted to read it bit by bit instead of all at once, which has the interesting effect of the book being in conversation with whatever else I'm reading, especially Greenwood. Anyway, I am about halfway through now—this is not a book to be rushed—and enjoying it very much.
Something to be read at a faster pace, however, is Agatha Christie's (no relation to Michael, as far as I know) Crooked House, which I bought secondhand because our family had been reading Marthe Jocelyn's middle-grade Aggie Morton series, based on Christie's early life and her works. (Read Jocelyn's "6 Reasons to Hook Your Kid on Mysteries") and the fact that I'd never read an Agatha Christie book was certainly an impediment to me fully appreciating what the Aggie Morton series was up to. And I really enjoyed it! Light and fun. I am going to pass it onto my 11 year old to read next.
William Trevor's Death in Summer was my next read, which also kicked off my focus on Ireland (though the book itself is not explicitly set there, but it's where the author comes from). I read my first William Trevor novel the summer before last, the super weird Miss Gomez and the Brethren, which I'd discovered in a provincial park camp store and bought for a dollar. William Trevor's novels (so far…) are so absurd and a bit psychologically grotesque, unflinching in regards to class tensions, and I love them. In this one, a woman dies suddenly, and the question arises of who should care for her 4-month-old baby, which seems more pressing than grief since the woman's husband is incapable of feeling and never really loved her anyway, and then one of the candidates for live-in caregiver (definitely inappropriate) becomes obsessed with the father, and starts haunting their property, culminating in the baby's snatching. ACK!
Something lighter, I supposed, after murder and summer death, so I picked up The Mysterious Disappearence of Leon (I Mean Noel), by Ellen Raskin, whose The Westing Game has been a favourite of mine for years. She was also an illustrator and wrote many picture books (and designed the cover for the first edition of A Wrinkle in Time!) and her illustrations appear in this book, which, like all of her other novels that I've read, sadly are not as good as the The Westing Game, which was just as silly but had a certain heft. Not so this one, but it was funny, enjoyable, and a quick read.
And then I read Rebecca Solnit's A Book of Migrations, about her travels in Ireland. I bought this book in 2014 when my local bookshop was going out of business so everything was on sale and I was obsessed with Solnit after reading The Faraway Nearby, but I didn't feel any real connection to the subject (in spite of my strange Irish name), so never read it, but I should never have underestimated the capacity of Solnit's writing to be interesting, I loved this book, which was an exploration of Irish history, geography, British colonial, home and rootlessness, and more.
I got three Sue Miller books for Christmas after becoming obsessed with her Monogamy this fall, and The Distinguished Guest lived up to my hopes that her other books would be as good. (I have since also read The Good Mother. OMG, Sue Miller is amazing!!) It's hard to say what Miller's novels are about, exactly, to take such a reductive approach, when they're such a slice of rich, full loves. In The Distinguished Guest, an elderly woman ailing from Parkinson's who found late-in-life fame as a memoirist—writing about her marriage which dissolved as she and her ex-husband, a minister, disagreed about how their church would support the civil rights movemen, with her husband supporting radical activism, as Lily took a more measured, middle class approach—comes to stay with her architect husband and his wife, the son finding decades' old resentments rising to the surface. There are no peripheral characters in this novel, each and every one flawed and complicated, and real.
And then, inspired by the Solnit book, I picked up The Dancers Dancing, by Éilís Ní Dhuibhne, which has been sitting in my shelf even longer. I don't know I waited! Set in 1972 as a group of students from Derry and Dublin spend a month in rural Donegal, ostensibly to learn Irish, the book was such a delight. The novel was a finalist for the Orange Prize in 1999, and it's richly innovative in terms of point of view, the most amazing omniscience. If you like Derry Girls, you will love this book, which is not like Derry Girls that much, but it scratches the itch, you know?
My final Irish selection was Elizabeth Bowen's first novel The Hotel, which was funny and delightful in places (the part where the clergyman dares to use the bathroom that had been exclusive to Mrs. Pinkerton (including the loofahs!) but in the end I was glad to be done with it, because it was one of those twentieth century novels in which characters talk around around the thing which cannot be articulated, and I eventually cease to care. Still, I like Elizabeth Bowen very much.
And then! I returned to Natalia Ginzburg, whose work was part of my holiday break last year. I bought The City and the House after reading Melanie's review, and really really enjoyed it. About a group of friends whose connection falls apart after one of immigrates to America, and the house where they'd all spent time is sold, the book is epistolary and the letters were a bit awkward initially (lots of exposition, unnaturally so) but then started to flow so marvellously. I particularly loved that these friends were at mid-life, because I don't think we read a lot of stories like that. Yes, this is definitely not an uplifting read (everything that could go wrong tends to) but I really loved it.
I read Penelope Fitzgerald's story collection The Means of Escape after that. And isn't it funny how sometimes a book arrives at the very wrong time? I picked up the book a few years ago, and found the first story difficult and impermeable, but I think I just wasn't in the right frame of mind, because all this time later, the story went down a charm, and I enjoyed the collection very much, and the wide range of Penelope Fitzgerald's approaches to fiction. How can all that come from one mind?
The Fire Next Time was James Baldwin was after that, and I've never read James Baldwin before. But he's the kind of writer whose words are so part of the atmosphere we breathe that so much of the book, right down to exact phrases, were familiar to me. And what can a person really say about James Baldwin, in all his brilliance, eloquence, generosity and righteous anger? The book is wonderful, and (sigh) as timely as ever.
And then I read The New House, by Lettice Cooper, a Persephone Books edition that I bought somewhere used. Published in 1936, it's basically about everything I've spent the last year wondering about, about power, society, and how things ought to work. Cooper was a socialist and her point of view comes across in the novel, but is also interrogated—what happens when a woman refuses to be selfish, for instance? Are there instances in which looking out for one's self is necessary? It was kind of an alternative twist on Howards End, a grand home being sold as modern estates are popping up across the countryside, and there is a generational divide, a sense that something is being lost, except that "something" involves terrace slums with eight people sharing a bedroom with an outside toilet, while the middle classes fret about being down to two servants. It's a book that is a bit too informed by ideas, but also Cooper is uncertain enough about those ideas (and still curious) about them that the effect is not off-putting. And she also does a marvelous job at making the most unsympathetic characters human and real and relatable. I absolutely loved it.,