December 7, 2020
Radical Acts of Love, by Janie Brown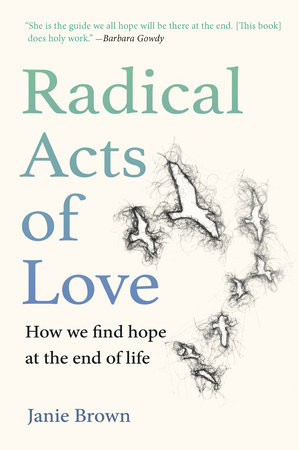 A rule of thumb that's never steered me wrong is that if a book ever includes "Isabel Huggan at the Humber School for Writers" in its acknowledgements, I should just read it because it's going to be good.

And since Isabel Huggan herself actually placed the book Radical Acts of Love (which falls into the aforementioned category) into my hands (not LITERALLY, because she gave it first to our friend Beth Kaplan, who then delivered it to my mailbox), my expectations were high for it.

But also perhaps this is the kind of book that you might not pick up UNLESS someone delivered it right to your mailbox, and even once someone does, you wait three months to pick it up, because who REALLY wants to read a series of oncology nurse and counsellor Janie Brown's vignettes about her encounters with people at the end of their lives.

But oh, you SHOULD. Brown writes about how most people are able to live most of their lives without witnessing a death, and that this kind of distance and our society's avoidance of thinking/talking about death makes us so ill-prepared for such a necessary part of life.

Death doesn't have to be scary, Brown writes, or feared—though it can be messy and complicated (most often for loved ones left behind). RADICAL ACTS OF LOVE is a familarization with the process of death, a homecoming of sorts, and it's warm, rich and even entertaining, remarkable in its scope.

At the darkest time of year, during a year in which so many have lost loved ones, a book like this seems particularly comforting, actually. That the dying of the light need not be raged raged against, but instead embraced as another of the seasons, an open heartedness that can deliver real peace, as Janie Brown's stories show.