October 26, 2020
Blue Monday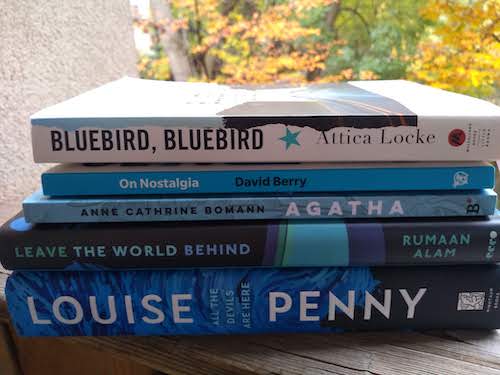 There's reading and there's reading, you know? The latter an intense and visceral experience, and I don't know if it's about the book or the moment, or an amazing alchemy involving both. I know you can't plan it, and simply have to wait for the moment to arrive, often when you really need it (like when I reread Kate Atkinson last spring and it brought me back to life…)
I took part in the Turning the Page on Cancer readathon yesterday and read for 8 hours straight, which is pretty much my ideal way to spend a day even when it's not for charity. Putting together a stack of books for the event late last week—books on my to-be-read shelf, books that weren't too long so I could feel I was making progress. They all turned out to be blue, which is the opposite of the Breast Cancer pink palette, but I always like to do books my own way. (PS We raised more than $30,000!!!)
I didn't read Louise Penny's latest, All the Devils Are Here, as part of the readathon, but it was almost like I did because a) the book was also blue and b) I had to speed through it Friday and Saturday so it would be finished in time for me to begin the official stack on Sunday. And I enjoyed the novel so very much. I always love me an Inspector Gamache novel, but this one seemed particularly compelling, I think because of its close focus on a single plot plot-line. I was absolutely wrapped up in the plot, gasped aloud several times (and yes, all gasps are aloud, but you know what I mean…) and found the climax rich and satisfying. It takes us away from Three Pines, to Paris, where Gamache and Reine-Marie have gone to await the birth of their new grandchild. And when Gamache's godfather is struck down in a hit-and-run that seems calculated, the whole family becomes embroiled in a crime with potential for massive devastation—but is there anybody they can trust?
I had been nervous to read Rumaan Alam's new novel Leave the World Behind because I'd heard reports it was bleak and disturbing, but also that it was phenomenal and it's nominated for a National Book Award. So what to do? Because I'm not exactly emotionally strong as steel these days, more like wobbly as Jello, and I wasn't sure I had the stomach. BUT if I read it in a couple of hours in one sitting, in the morning…it wouldn't be so bad, I decided. This story of an ordinary time that turns into an apocalypse, when a white family is staying at remote holiday home and then an older Black couple turn up, the home's owners, saying something unspecific but devastating as taken place in the the city, and they have nowhere else to, and things just get weirder and weirder, and it was so good. Resonant in this plague year (the mother's plea, "I just want everything to be okay!) and the writing and imagery so striking (the flamingos!) even if I do feel he gets women and sex wrong (in this book, a woman can't find her child, and likens this to being as strange as not being able to find her earlobes or her clitoris, but man, I bet there are a lot of women who can't find their clitoris, it just was very off.) Am I glad I read this book? Yes, it was so interesting and rich and propulsive. Do I kind of wish I'd never read it though? Yes, because I've been disturbed by its darkness and slightly frightened ever since I finished it, but what a testament to the book's power, right? This one is definitely a mindfuck.
But Agatha, by Anne Catherine Bomann, is not, thank goodness. A charming tale, one that could have been twee, but wasn't. It actually spoke to the very different Leave the World Behind in a variety of ways, actually, about the danger/desire to live apart from humanity, about existential longing, about trauma and despair. Also set in Paris, which took me back to Louise Penny the day before! This one is a slim volume and I read it in an hour, but I loved it, translated from the Danish by Caroline Waight and published in Canada by BookHug, About a therapist whose detachment from his patients and the world around him becomes blurry when a new patient arrives and his stalwart secretary leaves to care for her dying husband. It also contains a recipe for apple cake, so this one was always up my street anyway, but I adored it.
I also loved David Berry's On Nostalgia, which I bought after his 49thShelf launchpad post, and while it's also a slim volume, it's packed and heavy and I am pleased that it was part of the whirlwind of my day, adding a bit of literary heft, and it tapped into similar existential questions I'd encountered in the previous two books. Why do we spend so much time looking back? Why do we disdain this impulse? How do politicians manipulate it? How is Back to the Future actually an anti-nostalgic exercise? How does the dynamicism of social media affect our engagement with it, and that we have no memories of sites like Facebook or Instagram which is changing our user experiences of them constantly? It was so interesting, and the prose was engaging and funny. I am very glad I read it.
And then finally Bluebird, Bluebird, by Attica Locke, whose first two novels I loved, and I picked this one up at Lighthouse Books in the summer. (Literally. And then had to buy because Covid.) I'm not so far into it now, but am riveted, about a Black Texas Ranger who's caught between a rock and a hard place, a familiar situation I would imagine for Black police officers everywhere. He's also a law school drop-out and pulled between the desire to challenge the law and to serve it—in which corner does justice lie?
On the eve of my own book release, with so much else going on in the world and my nerves all frayed, butterflies exploding in my stomach, etc, it was such a privilege and a pleasure to escape into reading this weekend, not to leave the world behind at all (SPOILER: IT IS TO MUCH WITH US!) but to give me new ways to think about it, and celebrate the magic that reading can do.