September 30, 2020
Brighten the Corner Where You Are, by Carol Bruneau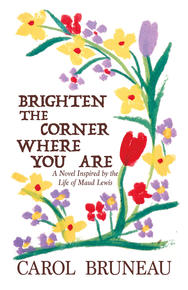 "Since Maud Lewis's death in 1970," writes Carol Bruneau in the Author's Note to her new novel, Brighten the Corner Where You Are, "her story has become so mythologized it's just about impossible to separate hearsay from reality, original information from an ever-deepening well of common knowledge."
And in Bruneau's own novel, which is based on research and interviews to imagine the inner life of one of Nova Scotia's most famous and fascinating painters, she attempts no such thing, inhabiting instead an enigmatic space between that doesn't bother with such distinctions, or emphasize the contrast between Lewis's bright and floral artistic vision and the realities of her life which were informed by abject poverty, disability, and possible/likely abuse and violence from her husband, Everett Lewis, whose portrayal by Ethan Hawke in the celebrated 2017 film Maudie was more than a little bit generous.
This middle ground is from where Lewis narrates her story, after her death, but still able to see what's going on in the world below. Now liberated from her disabled body and her marriage, both of which she describes as cages of a sort, but "What these folks don't see is that these cages made me the bird I am, made me sing in the way I did…"
With rich and artful prose, and a narrative that first appears simple and straightforward and then is revealed to be just a little bit off-kilter (in the style of Lewis's paintings), Bruneau complicates the myth of Maud Lewis, depicting her as a chain-smoking, deep-thinking, resilient artist who persisted in her vision in the face of adversity, who was an agent in her own destiny just as much as she was a victim of circumstance and impoverishment. Bruneau lets nobody off the hook for this, certainly not Everett Lewis himself, who hoarded the proceeds from his wife's painting sales and deprived her of luxuries, among them electricity and a flush toilet.
But how could a person with his background (he grew up impoverished himself) have turned out any other way, Bruneau's Maud insists. And what about the culpability of a society that accepts that poverty is simply a fact, that some lives are worth more than other, whose glaring inequities are as acute as they ever were while Lewis herself was still living.
This book is beautiful, as rich and uplifting as it is a literary masterpiece.