September 23, 2020
If Sylvie Had Nine Lives, by Leona Theis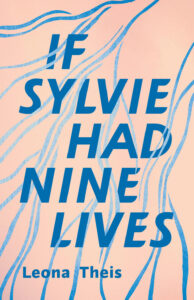 Okay, imagine the craft and form of Caroline Adderson's Ellen in Pieces, a premise and scope like Kate Atkinson's Life After Life, and an attention to the details of ordinary life that recalls the work of Carol Shields? (There's also a Bronwen Wallace People You'd Trust Your Life To vibe that I can't quite put my finger on…)

If Sylvie Had Nine Lives, by Leona Theis, is SO GOOD, a novel-in-stories (for real. It works.) that begins in 1974 as nineteen-year-old Sylvie is just three days away from marrying Jack, for better or for worse…

And the book that follows explores the many outcomes and possibilities created by Sylvie's choices, several forks in the road, and why they matter, or why they don't. What if life is not a river, the novel's brief intro suggests; what if it were a delta instead?
Sylvie leaves Jack, and moves in with a roommate whose violent boyfriend's advances she manages to refuse. Or Sylvie marries Jack and saves his life when he falls into the lake. Or she leaves Jack a few years down the line, pregnant. She marries her best friend from high school has two kids. She marries nobody and starts her own business. She and Jack spend their twentieth wedding anniversary watching the OJ Simpson Bronco chase. Sylvie remains single and becomes a university professor. And so on, these stories showing very different outcomes of Sylvie moving through the decades, getting older, the very same character (one with a propensity for terrible choices) contending with different circumstances.

This premise could be considered a gimmick, but the writing is just so excellent that the whole book shines, and the stories culminate the same way they might in a more traditional narrative. Perhaps some readers could become frustrated with each new story destabilizing what came before, but I just found it really interesting—and it works on a meta level too with Sylvie considering several times the different roads and doors she might have chosen. It is interesting also that the reader would mind at all if the "truth" of a fictional person's story was undermined—if you've read the last page of Kate Atkinson's A God in Ruins, you'll know what I'm talking about. Isn't is amazing that it matters so much? And it's a sign that the author has achieved something that it does matter.
I've not read anything by Leona Theis before, but she's been shortlisted for the CBC Literary Award, appeared in The Journey Prize Stories, and had the amazing Elizabeth McCracken select her story "How Sylvie Failed to Become a Better Person Through Yoga" as winner of the American Short Fiction contest in 2016, which is the coolest honour I can think of. And this novel lives up to the anticipation of such a biography—the book is wonderful. Definitely my first favourite book of the fall season.