July 22, 2020
The Ghost in the House, by Sara O'Leary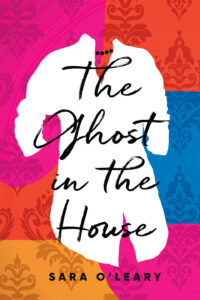 Is there a more charming phantom than Fay, in Sara O'Leary's The Ghost in the House, who wakes up one day on top of her piano, and realizes she's haunting her own house? Dressed in her husband's white shirt, a set of black pearls, and it's obvious that something is not right. Everything in the house has altered—the atmosphere, the decor. And when she realizes her husband has taken another wife, of course Fay so delicately nudges that woman's wedding ring off the counter into the sink until it falls down the drain. Because what else would you do in that situation, when your realize your beloved has replaced you with another wife? How would you go about spending your days?
It's such an interesting premise, but O'Leary makes something substantial, surprising and lovely with it. The narrative itself a bit ghostly, walking through walls, a short book whose chapters and sections leap easily between past and present. There is some mischief, naturally, but the story really gets going when Fay's husband begins to sense her presence, to see her. After five years of grief, she has come back to him—but he loves hs new wife too. Where do allegiances lie? And there is no right or wrong answer to the question.
The Ghost in the House resonates because Fay herself is so achingly human, yearning for impossible things, and as readers, we can empathize with her supernatural predicament. What would you do? Which is the happy ending, after all? A ghost story that is actually a love story, and one whose spirit lingers once the last page is turned.