June 26, 2020
Five Little Indians, by Michelle Good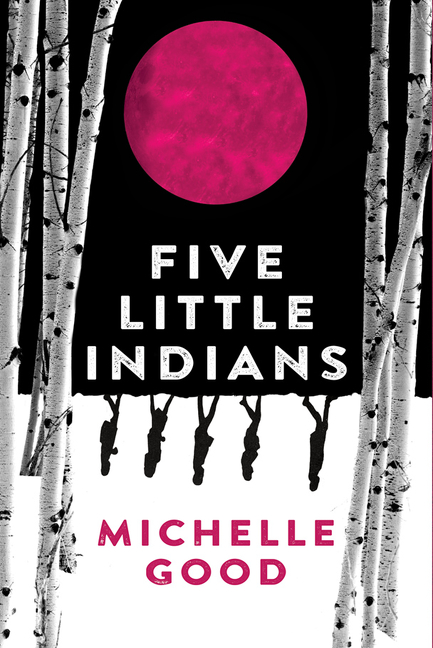 'Lucy leaned back in her chair, hands folded in her lap. "They call us survivors." "Yeah." "I don't think I survived. Do you?"'
Cree writer Michelle Good's debut novel, Five Little Indians—winner of the HarperCollins UBC Prize for Best New Fiction, Good earning her MFA at UBC while also practising as a lawyer—is the story of five Indigenous young people who were taken from their families as children and grew up at a remote church-run residential school where they were subject to abuse and deprivation, and then cast back out into the world with nothing as they came of age—with no skills, no community or ancestral ties. Nothing but trauma, and then what happens next? And the novel is the answer to that question.
Set in Vancouver's Downtown Eastside during the 1960s and decades that follow, Five Little Indians weaves together the stories of Kenny (once notorious for his escapes from the school, a pattern that continues), Maisie (a mother figure for the others, but unable to comfort herself), Lucy (who finds meaning in motherhood), Clara (who finds herself in the American Indian Movement and connecting with the teachings of an elder), and Howie (who struggles to stay out of jail).
The first 100 pages are hard-going, not just because of the trauma they convey, but because the reader is still getting a sense of novel's structure and the characters themselves too seem to be finding themselves, their feet, and are not as developed as they'll be in the rest of the book. I will admit that I was wary during these pages that this would be a novel that worked for me, but I am so glad I kept going. Because when Clara's character takes her turn telling the story, all at once the novel is injected with a furious momentum and energy, the writing in these chapters so artful and confident, and it charges the remainder of the book with narrative magic. And we see that these characters find ways to support each other, to save themselves, to keep going and try to survive and thrive. And sometimes they succeed, and sometimes they don't.
The point of a book with five protagonists is that there is never just one story, or maybe that one story turns into a different story for every kind of person. This novel also complicates the idea of survival, which is more meaningful in theory than practice, a process that never ends, and which can be impossible. Many of us readers like tidy endings, a story of healing, resolution, but for those who carry the traumatic legacy of residential schools, there is often no such thing. Because how does one reconcile the irreconcilable?
But the end of the book, these characters were firmly lodged in my head, their voices, their connections, their pain and their joys. Powerful and deeply felt, Five Little Indians is both a good read and a literary achievement.