April 27, 2020
Where I Find the Time To Read: The Global Pandemic Edition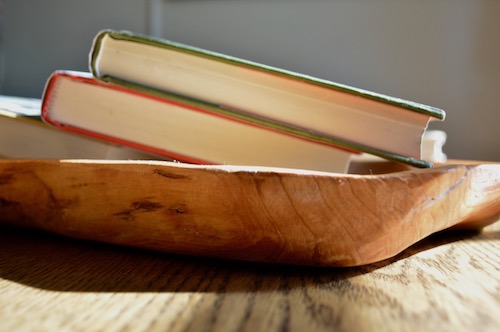 This is the third and perhaps the least fun installment in a series of posts about how I find the time to read. (Part one was about reading with a small baby, and you can read the post-breastfeeding edition here.)
And this post is remarkable because in the beginning of this, I couldn't read at all. It was terrible, because the world was already upside-down, and then here I was unable to read—and if I'm not a reader, then who even am I?
Finding my way back to reading has been to find my way back into my own head again, and since I managed this, books and reading have provided the most wonderful distraction. Books have proven to be the very best way to measure out these days, and worthwhile not just as an escape, but also for the uncanny connections they've managed to make to what we're going through, underlining the universality of experience even in extraordinary times, and also how amazing books really are.
Here's how I did it.
Rereading: In difficult times, there is nothing like returning to a book that's familiar, a book that's not going to surprise you. It's a comfort thing, but it's also a wonderful experience to be able to read again, to encounter a book you know and then find it changed. Or perhaps you'd forgotten it altogether—last summer I read Big Sky, Kate Atkinson's first Jackson Brodie novel in almost a decade, and realized that I didn't recall much of what happened in the first four books in the series. Returning to them since has been absolutely enchanting, and also so surprisingly perfect for this moment in a way I could never have predicted, not could have Atkinson herself as she wrote the novels years ago. That they acknowledge life's darkness, which is important right now, but they're also brilliantly funny and an escape in themselves. Getting to read these books again has been such a gift for me.
Create a reading project: Don't make this aspirational, but instead make it something you really want to do, an indulgence instead of a chore. If your project, like mine, is about rereading, all the better, because these will be books you already have at home–which is important when you're locked down under quarantine. I have one more Jackson Brodie book to read, and then I'm going to undertake rereading everything Margaret Drabble ever wrote in chronological order. Thankfully, Margaret Drabble wrote a lot of books, and I have this secret wish that as I read through them, the world outside might become a little less terrible.
Finally read the books you own that you haven't read yet: I actually HAVE read all the books on my bookshelves, because the ones I haven't read yet I keep on a different bookshelf…and some of these have been lingering there for a really long time. Now is the time! Keeping these titles distinct from the rest helps to focus your reading, and seeing the pile diminish can be satisfying. Remember too though that now is the time to acknowledge that some of these books you're never actually going to read, and therefore you should get rid of them, which is perfectly fine and even freeing.
Have a book swap with your neighbour: You get something new to read, something just a little off your beaten track, and you also get a little burst of social connection. (Just make sure they're not just giving you the books that they've finally accepted they're never going to read, because that's probably not going to end well for you…)
Acknowledge the reader you are: If your plan is to transform yourself into someone you're not, then I'm not sure you're going to be very successful. Life is hard enough right now, and I just don't think it's the best time to be adding reading Karl Ove Knausgård to your struggles if you, like me, have never found the prospect very appealing. Instead, pick up only the books you're really excited about and read like nobody's watching—because nobody is.
Don't be afraid to break up with your book: If the same book has been sitting on your beside since March 11, then it's possible that the pandemic is not your literary problem. Perhaps that book is not even a bad book, but it's just not the book you need at this moment, and you should have no compunction about putting it away for awhile. Forever, if need be. Try another one, and even another one, and eventually, something will take. (Here are some recommendations!)
Order some books from your local indie, or from Indigo if that's what's available to you. I'm not saying this is going to get you out of your reading slump, but waiting for things to come in the post MAKES ME SO HAPPY these days and all days, and being happy feels good.
Set limits for social media: The only social media app on my phone is Instagram, because I find it inspiring, as opposed to Facebook or Twitter which just raises my blood pressure and lead to endless scrolling. I don't hate these sites, but they suck up my time in unproductive ways, so I am glad they're not always accessible to me.
Put your phone away: My best time for reading is from 9-11 once my kids have gone to bed, and I get the most reading done when my phone is out of reach.
Ask yourself just what you're seeking from news coverage: I'm not hiding my head in the sand, and it's important for me to know what's going on in the world. But during the time when I couldn't read books and was obsessively scrolling and refreshing news sites, I was desperately looking for answers that nobody had yet. They still don't. Acknowledging the futility of this was useful to me, and it was heartening to realize that books knew more secrets. These days, I focus my news consumption on print media (it has context and it's FINITE!) and don't look at online news after sunset.
Stop watching so much Netflix. Unless you're loving it and don't miss reading at all, but I really do believe that books are a better kind of escape (and they help you sleep better). Rhonda Douglas is running a A 30-Day No Netflix Challenge over at her website as an incentive for writers, and I think it's a great challenge for readers too. Or what if you set aside one or two evenings a week for reading instead of Tiger King? You probably won't be sorry you did.