April 23, 2020
Misconduct of the Heart, by Cordelia Strube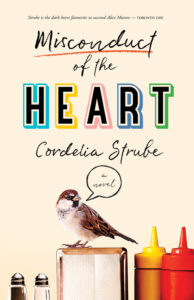 I was nervous about this book, and if you've ever read Cordelia Strube you'll understand. Cordelia Strube whose previous novel was On the Margins of These Pages, There is Heartbreak, or at least it might as well have been. (The book was actually On the Shores of Darkness, There is Light, it was one of my favourite books of 2016, and won the Toronto Book Award.) But my capacity for heartbreak is so currently occupied at the moment by everything, and I can't take any more. So I went into this warily, is what I'm saying, like the book itself was an unreliable teenage boyfriend. "Here's my heart, Cordelia Strube," is what I was thinking. "Be careful, please."
Misconduct of the Heart is not a feel-good comedy. Narrator Stevie is currently sandwiched between violent assaults by her son who returned from Afghanistan with PTSD and the demands of her aging parents (her mother assaults their personal support worker and her father shits his pants), all the while Stevie herself has trauma that she's never properly processed or admitted to anyone. She became pregnant with her son after a violent gang rape when she was a teenager, and was never able to show him affection—though her own mother and father weren't stand-out examples of parenting either, so did anyone ever have a chance?
But they do, which is the point of this book, which is as funny as it's dark. Populated by the characters who work at Chappy's, the weathered franchise restaurant in suburban Toronto where Stevie works as kitchen manager, and if you've ever worked in a kitchen, you'll recognize the scene. High stress, as if Stevie needs any more—but then someone drops off a child who might be the daughter of her son, and here Stevie sees the possibility of something. Redemption? Could this troubled world ever give her that much?
This is not a feel-good comedy at all, but oh it's so richly funny. Funny in the way the world is, absurd, preposterous, sad and hilarious. "You can't make this stuff up," kind of funny, which is funny because Strube does, and it's wonderful. And even feel-good, because there is hope and there is triumph, and the reader is rooting for every single one of these lovable losers to finally win.
It's a slow build, this book, and first 100 pages are tough—the narrative is a bit disorienting, we're not sure why we care about any of these people yet, and the story of Stevie's past and what happened to her son is really brutal. But the reader should persist because once the story picks up, the payoff is huge, such an unrelenting kernel of light and love. There is nobody else who writes like Cordelia Strube, and this is one of my favourite books of the year.