March 20, 2020
Crocodile Dundee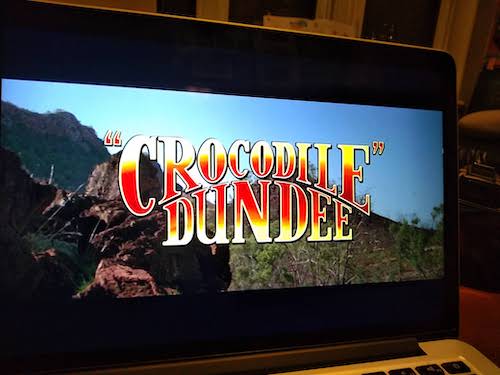 The only thing I am properly equipped for at this time (except for keeping calm and staying home, of course) is writing about Crocodile Dundee, which I watched on Netflix two nights ago, and it was so terrible, but fascinatingly so, and also short. The strangest thing about the film is that I am sure that I was taken to see it in the cinema when I was seven, and while the movie is not inappropriate exactly, it doesn't really seem really appropriate either. Similarly, while the movie is really short with lots of action scenes, nothing much really happens in it at all. It's just so bad, and not just because the female lead is a journalist whose boyfriend edits the paper she works for and her dad is the owner. She's late coming back from Australia, because she's got a lead on a terrific story, about a guy in a remote territory who was attacked by a crocodile and survived. She meets him, and it turns out that he is very greasy, skin like leather, appears to be literally coated in dirt. So naturally, she develops sexual feelings for him, or kind of. Also, she treks through the jungle without a hat or bug spray, which I just couldn't get over. She has a bodysuit for every occasion, as you do on a jungle trek, I suppose, and her bodysuit has a thong, which we learn when she takes off her skirt to bathe in the lagoon (where she gets attacked by a crocodile and Mick Dundee saves her).
And then she decides to invite him to come back to New York with her, because wouldn't that make a fish out of water movie! Her boyfriend greets her at the airport, and it turns out that Mick Dundee doesn't know how to use an escalator, and later he has the same problem with a bidet, and he doesn't even know how to use a bed. Sue has absolutely no character development and her fundamental purpose in the film is to find Crocodile Dundee adorable in a childlike way, simultaneously sending confusing sexual signals, all the while having zero chemistry. And her boyfriend is so rude and unattractive! And the parties that she takes Mick to are totally weird and boring! And he keeps grabbing people's genitals, and it's supposed to be funny, but it's horrifying. Also why does Sue have no friends?
The "that's not a knife" scene lived up to my memory of its epicness, but everything else is terrible. In the movie's final scene, Sue and Mick meet in a crowded subway station and to get to her, he hauls himself up to the rafters and literally walks across the crowd, stepping on people's heads, and it's supposed to be charming. It was not. The movie was awful, and yet somehow it was exactly what I needed.