February 20, 2020
A Dark House, and Other Stories, by Ian Colford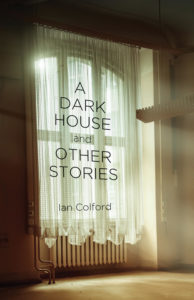 The old year clocked over on January 1, but I wasn't finished with the books yet. A month ago I published a list at 49thShelf about 2019 books worth checking out before we got lost in a sea of 2020 new releases, and while I already suspected that it might be the least fluffy book list ever posted in the history of the internet, having read one more book from that list—Ian Colford's A Dark House and Other Stories—I can now totally confirm it.
A Dark House… was terrific. And I'd been hearing rumours of as much; the book got a starred review in Quill & Quire. But one woman's starred review can be another man's DNF, so it always feels extra lucky when I like a book as much I'd been led to expect that I would.
A Dark House and Other Stories collects works Colford wrote between 15 and 25 years ago, as he explains in his acknowledgements, but nothing about these stories read like a writer who's finding his way. The first story makes the reader feel immediately uncomfortable, about a man who has taken his son from his ex-wife. "He's tall and gaunt and unsure what he's doing is right, but he's doing it anyway because what else can a man do when he's been denied his son through a perversion of justice." There's a sense of inevitability here, and a real sense of empathy with somebody who has done wrong—and this pervades the whole collection. And truth be told, we're living in a moment where a a lot of men are feeling like a perversion of justice has denied them something to which they're entitled, and stories told from such a point of view tend to wear out my patience real fast…except that Colford writes from such a place of curiosity, grace and humanity that I kept on reading, and I am really glad I did.
The stories are gripping, plot-driven, have nothing slight about them, and decades are conveyed in just a few pages. In "The Comfort of Knowing," a man decides to get the better of his wayward younger sister, but instead sews disaster. "The Dictator Considers His Regime" is a fascinating story that (I think) is set in mid-century Portugal, about authoritarian systems, freedom, personal responsibility, and the price of speaking truth to power. The main character in "McGowan on the Mount" reflects on a lifetime of family, loss, business, neighbourhood change, and finally can't avoid taking one more chance on life and love. A college professor whose marriage breaks down projects his own experience onto a homely undergrad in "The Ugly Girl." In "On the Beach," a young girl whose mother is struggling is unnerved by her developing friendship with a troubled neighbour. In the title story, an inversion of "The Ugly Girl," another professor projects her experience onto a student who reminds her of her ex, and reconsiders her life choices. And finally, in "The Music Lover," a young girl struggles to keep the peace as her family falls apart.
Every story is rich and absorbing, small windows into wider worlds. With wide-ranging approaches to tone, theme, and characterization, what links these stories as a collection is simply that they're just so good.