February 10, 2020
18 Ways That Having a Sourdough Starter is JUST LIKE Having a Baby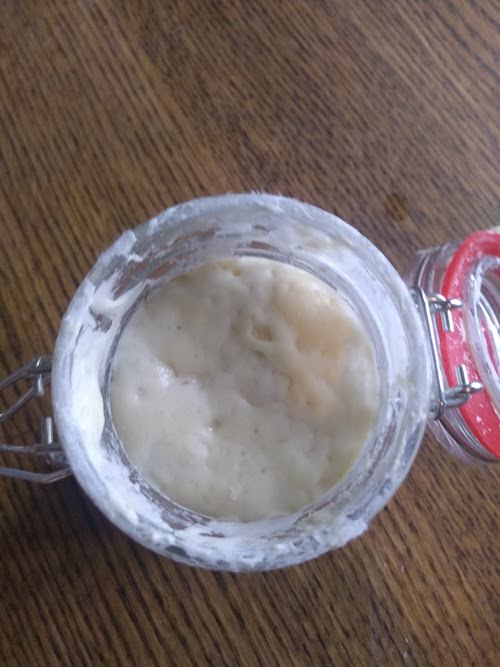 Somebody just handed me this living thing, and its existence does not entirely make sense to me.
Care and feeding of this living thing is a little bit overwhelming and I spend lots of time texting questions to my friend who has had a sourdough starter for six weeks longer than I have and therefore knows EVERYTHING.
I am worried I am not to be trusted with this living thing, and keeping it alive is causing me anxiety.
I spend evenings googling the things that confuse me in particular about the behaviour of my sourdough starter, and perusing sourdough forums to find experiences I can relate to.
I discover sourdough forums, where opinions are strongly held and factions end up fighting amongst themselves.
My sourdough starter is a bit weird, and I have trouble mapping my experience onto the ones that everyone else is writing about.
There are a lot of different ideas and philosophies about care and feeding of a sourdough starter, and how a sourdough starter (and in particular a loaf) eventually turns out seems to be completely unrelated to any of these ideas.
Every loaf you make will be completely different from all the others.
People have their sourdough starter ideas, and get a bit tetchy when you decide to raise yours differently.
They're worried you're not feeding yours enough, or that you're feeding it too much.
I can't stop sniffing it.
Heated online debates can be found between those who discard their starter every time they feed and those who don't.
I start to think my sourdough starter is perhaps a little exceptional.
My sourdough starter keeps me up at night—or at least, I am unable to go to bed until I've gone downstairs to check on it just one more time.
I have to plan my days around it, not only the feedings, but baking a loaf of bread is a 24 hour process.
I start to realize that it doesn't actually matter what I do with my sourdough starter, or rather than I can follow my instincts and just do what feels right.
I learn that I can google anything about my sourdough starter, and find an article online to justify what I believe to be true not based on any scientific information whatsoever, but instead my gut feelings about sourdough starters.
With my sourdough starter, I can bake everything I baked without it, but just with more labour and less convenience. And somehow, mysteriously, sometimes it even seems worth the trouble.