February 4, 2020
Discovering Emily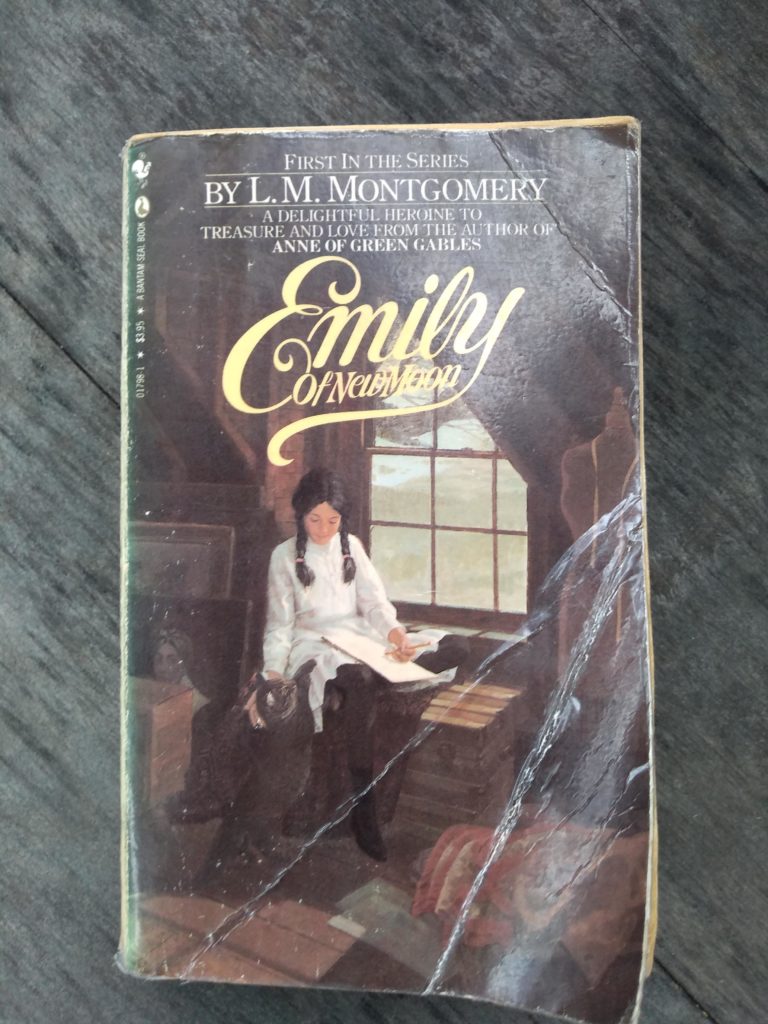 "Everybody loves Anne, but I like Emily. She's dark." —Russian Doll
It was a year ago now that I was swept along in the enthusiasm for the Netflix series Russian Doll, starring Natasha Lyonne, a strange and enigmatic show in which the novel Emily of New Moon featured as a major plot point. Which was just as weird and curious as everything about the show, and it put Emily on my radar for the first time in years. Emily, a second-tier Anne of Green Gables, I'd always supposed, the case not helped by the cover of the Seal paperback that featured prominently in my childhood, which is basically just Anne with different coloured braids.
This specific copy is stolen from the library of the school where I attended Grade 7 and 8. I am not sure exactly if I was the thief, but somehow this ended up in a box in my mom's basement and I brought it home not long ago, because of Russian Doll.
In childhood, Emily was wasted on me. I know that I read the whole series because I'm now just one chapter away from rereading Emily of New Moon (have been reading it aloud to my family for the past couple of months) and remember parts of the story from when Emily is a bit older, which is mainly her totally gross relationship with the much-older Dean Priest. I know I read the whole series, because I was an L.M. Montgomery completist, but it mostly just left me with questions. Like what was up with Dean Priest? (Upon reread, I still don't know the answer to this.) Where exactly was Stovepipe Town? And "the flash." I didn't understand "the flash." Emily of New Moon was Anne of Green Gables, but weirder. Emily is dark—Russian Doll was right. And as a young reader, I didn't have the understanding to appreciate that, or to appreciate the novel properly at all.
But it's so good. The takeaway from our family read is this. The number of times I've come to the end of a paragraph and stopped reading, and everybody starts yelling at me, "No, no. Come on! Keep going! What happens next?" The story itself a bit overwrought and melodramatic, but not to the detriment of the reader's enjoyment. And not without a sense of humour either—when Emily eats the poisoned apple! The ghost in the walls at Nancy Priest's house! A cast of characters so firmly realized that when the narrative notes that Perry Miler would be the leader of Canada one day, my children asked me if this had actually transpired. And I don't want to knock Anne, but Emily's friends are so much more interesting that Diana. Foul-mouthed Ilse Burnley (and the mystery of her runaway mother), and Perry (who in one scene hangs naked from the kitchen ceiling), and Teddy Kent with his suffocating mother who drowns his cats because she can't bear that he loves anything but her.
Emily is a fantastic character, up there with Harriet M. Welch as a person whose boldness and will I'd like to channel. Where Anne Shirley was desperate for love and to be liked, Emily has spent most of her childhood in the care of a doting father who gave her a remarkable inheritance, an indelible sense of herself. She knows her worth and her value, and when others don't, she sees it more as a reflection on them than on her. Even when she arrives at New Moon, where she is an outsider (her mother years ago had run away from her family there to marry her father), she is able to draw on the traditions of her mother's family and their heritage to further shape her own identity. She knows who she is, and where she came from, which gives her an impressively strong foundation to build her self upon.
Her steadfastness is so admirable, and curious in a child. There is an uncannyness to her character that makes even the most sensible grown-ups uncomfortable, and this tension makes for fascinating reading. And so does the action—Montgomery channels the same gothic darkness here that made her The Blue Castle so delicious, but the novel is also filled with light and the pleasures of everyday. I love the chatty and mundane letters Emily has written to her late father, which reminded me of my favourite parts of another Montgomery novel I loved, The Road to Yesterday (in fact The Golden Road! The LM Montgomery Society kindly corrected me on Twitter) in which a group of cousins put together a newspaper. And I think Aunt Elizabeth might be my favourite Montgomery character since Marilla Cuthbert.