November 3, 2019
Neither Useful, Nor Interesting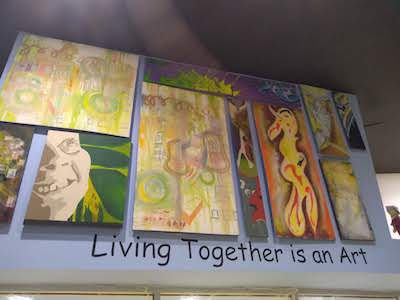 Oh, yet another blog post that begins with me talking about something I heard when I was listening to a podcast. The Mom Rage Podcast, no less—am I predictable yet? This one was about vaccines (it was so good!), featuring a conversation with medical anthropologist Samantha Gottlieb about the HPV vaccine and "vaccine-hesitant communities." She spoke about how many people are put off by doctors' refusal to entertain questions about vaccines at all, which only serves to underline skepticism. When the facts are that vaccines can cause risks, that vaccine injuries and reactions do happen. They happen on a disproportionately tiny scale, with risks minute. It's more dangerous to get in the car and drive down the road, and we all do that all the time, but still. Doctors don't want to admit it. It complicates the narrative, and complicating the narrative of vaccination is perilous, literally life and death.
Of course, I like complicated narratives. To complicate the narrative is to get as close as we can to something called truth. I don't want to live in an echo chamber, a bubble. I relish conversations with my economist friend about the virtues of capitalism; I appreciate the activists who've open my eyes to the violent reality of racism; my morning routine is basically putting on shoes, but I've got big respect for people for whom make-up is a form of personal expression. On Twitter, I used to actually follow the person whose booking at the Toronto Public Library has created such controversy over the last few weeks, because her take on sex-work complicated what so many of the other feminists in my feed were talking about, and I found that complicatedness useful and interesting… until it wasn't. I unfollowed this person when she started writing online attacks on the grieving father of a dead teenaged girl. When I realized this "journalist" (whose platform is her own website, which she likes to call "Canada's leading feminist website" [according to whom?]) relishes attention more than any kind of truth, and had figured out that courting controversy was the fastest way to get there (and solicit donations). When I realized she was more invested in dogma and ideology than the feminists whose thinking (and actual lived experiences) she purports to oppose and complicate. This person is neither useful, nor interesting. She is sensationalist, and purely disingenuous. She is the anti-vaxxer of gender politics. She is not "just asking questions."
I think there is room for questions and nuance in conversations about gender. Unlike the speaker who was provided space at the Toronto Library, I think that none of this is simple. I wish that the City Librarian had listened to so many smart and respected voices calling on her to cancel the speaker's booking—the milquetoast mayor called her on it, for heaven's sake. And no, these people weren't "bullying the library." You can't bully a library. This is nonsense. But I also know that people too are complicated like their issues are, and there are many of them (myself among them) who don't like being told what to do, to have demands made of them, who double down instead of considering the opposite. We put a lot of truck in unapologeticness in feminism, for better and for worse. I don't think that we should be boycotting the library, because for so many people, especially marginalized ones, the library is their most accessible cultural institution. Because the library belongs to all of us. Because the people who have the least are the people that lose the most, and I don't really know what the end-game is of a library boycott, especially now that the event is done and dusted. Though I commend all the people who've taken a stance and I do think it's been hugely worthwhile—the turnout to the protest on Tuesday evening was an incredibly show of solidarity, and the issue has led to all kinds of conversations, which are necessary as we ask questions in generous and thoughtful ways, and figure things out as a society—a process that is far more useful and interesting than anything the speaker might have said on any platform. (This is the work, people. We're doing it. Even if, or maybe especially if, you'll only doing it all in your head.)
I do know what it's like to have my body be the site of a debate. I've stood on the sidewalk holding a sign listening to men argue over the semantics of abortion, as to the precise point where the procedure should or should not be permitted, and I can tell you that it's dehumanizing, insulting, ridiculous, and neither useful nor interesting. And so I have an understanding of where trans people are coming from when they refuse to entertain questions, conversations or debate about their bodies and their identities. When the field of debate is your lived reality, listening to people arguing in abstract terms and citing outlying circumstances as emblematic of the issue at hand—for anti-choicers, it's all about the case of a particular doctor and abortion provider who was convicted of murdering infants, same as how the anti-trans crew is always going on about aestheticians and waxing, as though these are the actual goal posts and such things are happening every day—is exasperating, traumatic, and a gigantic waste of everyone's time.
I think there is room for questions and nuance in conversations about gender, because we live in a world where there are no absolutes, but I am sure that insisting on those conversations at this precise moment is not the most pressing thing we've got on the go. That democracy and freedom hang in the balance, as so many others might put it in their letters to the editor. I think back to the vaccine analogy, and the distrust and violent suspicion at the heart of the anti-vaccine movement, which is not so far apart from that of anti-trans activists, really. In both cases, there is an over-estimation of vulnerability, and a convenient disregard for those who are actually vulnerable after all.
Of course, there are conversations that need to be had, questions that need to be answered, but not like this, not by this person. As with the vaccine conversation, the harms—here, it's increased violence against and vilification of an already vulnerable population—really do outweigh the benefit, which is mainly the privileged and smug self-assurance of living in a society where any idiot gets to spout her rubbish in a public building. And if such self-assurance is our guiding principle, instead of listening to, learning from, and taking care of each other, then what does it say about us?