September 17, 2019
Waffles, Waffles, Waffles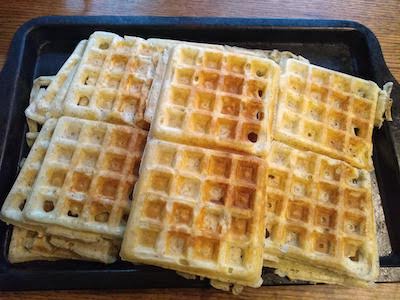 One of the things I am most proud of and amazed at having accomplished in my life is a Baby Book for my second-born child. I was never going to be a perfect mother, and being a second child definitely would inevitably suck in all kinds of ways (secondhand snowsuits, no one appreciating the miraculousness of things like you knowing how to roll over, and basically not being bathed for two years) but at least she was going to have a Baby Book, a record of those precious blurry days. Though it was less of a burden for me to assemble than it might have been for other mothers of two—her elder sister was all the way to four by then, and I also spent the first three months of her life on co-parenting duty instead of struggling alone because my husband had taken parental leave, which meant time for naps, and books, and writing down all the things that we'd never remember.
When Iris was two, I added a whole page of notes to the Baby Book, though she was not a baby anymore. But it seemed like there were more things worth remembering then, once she was able to speak, and her remarkable personality had formed. "Things Iris Says," was how I'd titled this page, along with the date, and I turned to this page just the other day when Iris had brought her Baby Book down from the shelf (and how glad I am that she has a Baby Book, that I bothered to put the effort in. Both my children are so fascinated with their baby selves, and will look at all records of their early periods in a way that's inexhaustible).
"Things Iris Says," I read aloud, excited to see what forgotten treasures might emerge from this time capsule, but then. Oh. Almost everything that Iris said when she was two had basically found its way into our family vernacular, and it's how we all talk all the time now. (Perhaps when I say "we all," I just mean me.) "Atcheam," for ice-cream, and "fuff-eye" instead of "butterfly." And "ra-see-see-wah" for rice krispie square. But then Iris is a little bit like this, in our family as well as in her own peer group. Totally weird, completely absurd, and at first, we're like, "What are you doing?" And then it doesn't take long before we're doing it too.
But really, I want to talk about Teen Titans and waffles. Not that I have actually ever watched Teen Titans Go, but it's Iris's favourite show, and somehow without me ever having actually watched it, it's seeped into my DNA, and I think it's also the inspiration behind what became our family's new year's resolution for 2019, which was Get a Waffle Maker. Part of our pattern of Keep the Stakes Low to Avoid Disappointment. If you package up all your dreaming in the hopes of picking up a secondhand waffle maker from Value Village for $6, things are probably going to work out fine.
Get a Waffle Maker became our family dream because there is a song from Teen Titans Go about waffles—like most things about Teen Titans Go, it's catchy and also extremely annoying. I am also very impressionable, particularly when it comes to glutinous goods, and so eventually, I had waffles on the brain, perpetually. We got our waffle maker sometime in January, which means our annual goal was achieved, and as a family we could just sit back and relax and be delighted by having accomplished what we set out to do. And make waffles every Sunday.
The waffle maker has been a game changer. I used to make pancakes every Sunday, and they were good, but lots of work, and also results would vary. But now the waffle maker does all the work for me, in way less time, and all I need to do is pour the batter in and then read the newspaper and drink my tea while waiting for the light to turn green—so simple. I am partial to Smitten Kitchen's Buttermilk Waffle recipe. I am also partial to adding poppyseeds and millet to everything. Waffles, waffles, waffles, indeed. I love them, their taste, and neat geometry, and how leftovers could be turned into cream cheese jam sandwiches for tomorrow's lunches, and all the places where our children's preoccupations take us.
Even if just to the appliance section at the secondhand store. Hooray for being goal-oriented.