September 10, 2019
Worry, by Jessica Westhead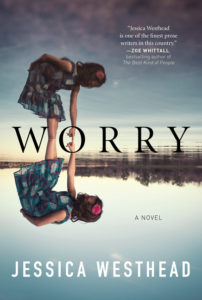 My friend Jessica Westhead's roots are showing in her new book, Worry, which follows two acclaimed short story collections and another novel. While ostensibly Worry is a departure—a novel underlined with darkness and suspense, Westhead's first book with a new publisher, a book marketed to appeal to "fans of Little Fires Everywhere and Truly Madly Guilty"—it's still undeniably a work of Westhead, with the same attention to the peculiarities of relationships and personal dynamics, misfit characters, and a refusal to flinch in the face of pain or social awkwardness.
And there is social awkwardness aplenty as Ruth arrives at her friend Stef's new cottage, along with her three-year-old daughter Fern. Awkward from the start, because Stef's not home, as Ruth is informed by a neighbour, Marvin, who drifts along to the property on a paddle board, and this sets the tone, Ruth with her adherence to rules and schedules, Stef's refusal to do the same—plus Marvin makes Ruth uncomfortable. Further, Stef and Ruth have a history that stretches back for decades, and she's even Ruth's husband's boss—their relationship has always been complicated. And how complicated their friendship truly is turns out to be one of the novel's great revelations.
Who is friend and who is foe? What is safety and what's a threat? The lines are blurred and the stakes have never seemed so high as they are in our contemporary moment of parenting. Ruth's anxiety about her daughter (and everything) is palpable throughout the novel, and it's not clear to the reader whether or not it's unfounded.
Westhead credits Elisabeth de Mariaffi in the book's acknowledgements for inspiring her "to write my own version of a scary story," but I see other inspiration too—the way a short story writer turns into a suspense novelist, the agility with which the writer moves from scene-to-scene. That perhaps to move from short stories to suspense-filled novels is not such a leap after all—or maybe leaping is the very point. In Worry, Westhead demonstrates that leaping is precisely what she knows how to do, and her novel delivers with the most assured and powerful landing.