June 22, 2019
Reflecting on 40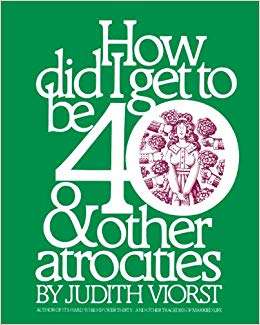 Not since the dawn of the millennium have I felt such pressure to mark the turning over of a year—and let me tell you, I don't thrive under such pressure. I ended up spending the evening of December 31, 1999 eating chips in my parents basement, which was better than the world's infrastructure crumbling as the clock ticked over, of course, but it was really only memorable because it was not a good time. (There might not even have been chips, but I just added that part for extra detail.)
So this was reason I wanted to keep things low-key for my 40th birthday this week, indulging in the everyday pleasures that I am fortunate make up the bulk of my life. The everydayness is the point…but then did I want to see my friends, but our apartment is too small for a party (it wasn't once upon a time, but once many of our friends had children and then those children grew, the situation became untenable), and I can't afford to book a venue, and I don't want to spend the energy to make a big production, but…and here I was on the same tangent that led to me greeting the new millennium from a basement, so best to ease back if I don't want that to happen again.
I am not good at milestone birthdays. My 30th birthday was only better than my 20th birthday, because my 20th was the birthday where I drank too much and ended up falling in a puddle of my own pee. (At least it wasn't someone else's.) When I turned 30, I was hardly standing upright either because I had a three-week-old baby and life was really hard, and that was also the day that my computer crashed, losing everything I'd worked on in my twenties. (Hindsight: this was NOT a tragedy.)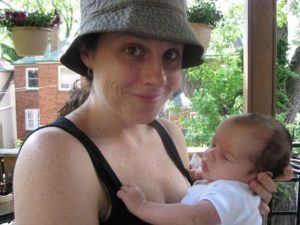 So I am hoping we can set the bar at this: my 40th birthday will be more pleasant than my 30th, whose highlight was that my newborn baby slept for twenty minutes will we ate our dinner and I was able to sit in a chair unencumbered and enjoy half a glass of beer.
Never mind that I no longer enjoy beer at all (alcohol affects my sleep, which has become my biggest vice as I move into this new decade, and then it's hard to get up first thing in the morning for my daily swim, which is my SECOND biggest vice as I move into this new decade. It is a really good thing that I never hoped to die before I got old because it's too late for that…).
I am so happy to be 40…or just two days short of it, as I write this. I've seen enough of my contemporaries die of cancer in the last ten years that my perspective on aging now is that it's nothing short of a gift, and I feel so lucky to receive it. And grateful for my thirties too for what they delivered me, how far I've come since then, all the amazing things I've been able to make and see and do and meet, not least among them books, friends, adventures, challenges, and so many extraordinarily beautiful days. (Like Albert from Kate Atkinson's Behind the Scenes at the Museum, I continue to collect good days like other people collect coin or postcards. Unlike Albert, I did not die in WW1.)
That exhausted new mother sitting in a chair with half a glass of beer would have had her mind blown by the way it's all unfolded. I feel so incredibly lucky.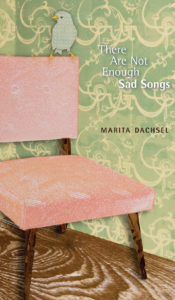 I am reading Judith Viorst's poetry collection How I Did I Get to be 40 and Other Atrocities, which is fun and also fitting because it was ten years ago that I was reading her It's Hard to Be Hip Over 30 (and how—oh, and her most recent collection about nearing 90 [!] came out not too long ago...) And while I am loving the book (especially the design, since my library copy is decidedly vintage now), for me it has turned out not to be the poetic word on my new decade, because I recently read Marita Dachsel's collection There Are Not Enough Sad Songs.
From her poem, "the forties":
We are fabulous. We are stronger than we've ever been,/ because we know ourselves, and we love ourselves. Our bodies are finally our own…