May 30, 2019
The Severed Wasp, and New York City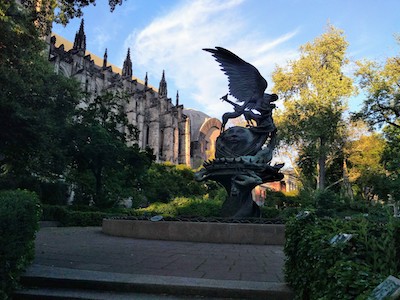 Sometimes, one's inflexibilities rub up against each other in complicated ways, for example: yes, one wants to read Madeleine L'Engle's lesser known novels in chronological order (ie two more Polly O'Keefe books to go before I read The Small Rain/A Severed Wasp) but also: I really want to read A Severed Wasp during the weekend we're in New York, because of its setting (which is the same setting for The Young Unicorns, a novel I adored). So what to do? Well. because I am all cool and laidback, I just skipped ahead to be the other books, NBD. Ha ha.
So first to The Small Rain, which was Madeleine L'Engle's first novel, published in 1945, 37 years and 29 books before its sequel, almost 20 years before L'Engle made her great success with A Wrinkle in Time. And…it was not good. There were interesting tastes of what would come to be L'Engle's literary preoccupations—it begins with a young girl being cared for by a friend of the family, because her musician parents are unable to be there for her, which reminded me of Maggy in Meet the Austins. There is romance, there is melodrama, there are weird dynamics between teenage girls and grown men, there is a sea voyage. There are weird problems with plot and pacing, and I didn't really like the book–it read like something terribly old fashioned written by someone who was terribly young and trying to be terribly edgy, and the effect was kind of terrible. I am glad I read it, but I desperately hoped that A Severed Wasp would be very different, but then I supposed it would be, written 37 years and 29 books later. Possibly, L'Engle has learned something about writing novels in the meantime.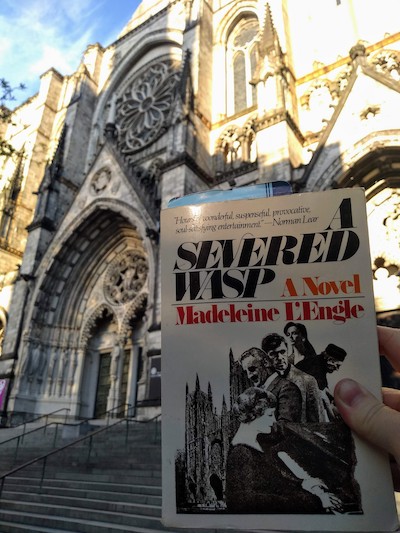 A Severed Wasp—published in 1982, and blurbed by no less than Norman Lear!—finds Katherine Forrester in her seventies now, instead of a teenage ingenue. Now widowed and retired after a hugely successful career as a pianist, she has returned to the scene of the previous novel, to New York where she came of age and suffered her first heartbreaks, and she runs into her old friend from Greenwich Village, Felix, who was once a violin-playing beatnik, but now he's a bishop, which is the way things go in Madeleine L'Engle novels, at the Cathedral of St. John the Divine on New York's Upper West Side.
Which is a cathedral I first encountered through L'Engle's The Young Unicorns (1968), the one book in the Austin series that did not feature Vicky at its centre and which was odd, plot-driven, and very compelling. Dave Davidson, who was a teenage boy in the first book, appears again in this one, now grown and Dean of the cathedral, and married to ACTUAL Suzy Austin, who has realized her dream of becoming a doctor, and is also now a mother of four. Interesting because Suzy had been the one who'd always challenged her own mother's anti-feminism, and I'd wondered about L'Engle's emphasis on women who had abandoned dreams of career for families, as though the two were impossible to balance. But here was Suzy, doing it all, which Katherine thinks about a lot, because she is conscious of having failed her own children as she'd travelled and toured for much of her daughter's childhood, and her daughter now remained quite distant from her—in terms of geography and emotion.
But then we will learn that Katherine's relationship with her daughter is complicated not just for this reason, but also because the daughter was conceived not with Katherine's husband who'd been castrated at Auschwitz, but by her Nazi prison guard, with whom she'd had a brief affair right after the war. I know, right? The Katherine of The Small Rain has not lost her taste for melodrama, but the stakes have been raised much higher, plus Katherine is receiving obscene phone calls, Felix is also receiving threats to reveal his homosexual affairs, her pregnant downstairs neighbour's husband has having an affair with a man, the Bishop's wife is a former pop-singer whose past involvement with drugs continues to haunt her, the streets of New York are dangerous and riddled with crime, and Suzy Austin's youngest daughter had lost her leg not long ago after being hit by a car in what may or may not have been an accident.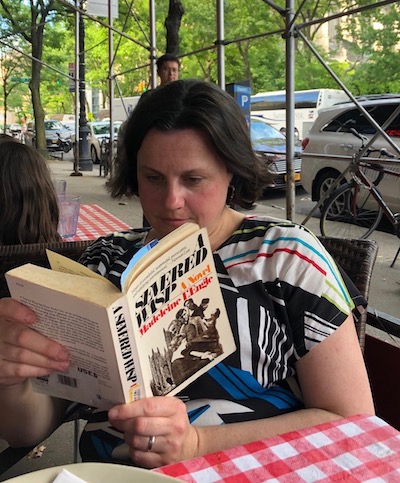 Too much, all of it. Also, too many racist stereotypes—the worst. But the plot did unfold in a most compelling way, and actually being in New York as I was reading made the whole thing much more meaningful to me. (I don't think many people make A Severed Wasp pilgrimages. There wasn't even a copy of the book in the Toronto Library system. I had to order a secondhand copy. My instagram hashtag was the only one!) We went to the Cathedral on Friday evening ("The very size of the Cathedral was a surprise…" the book begins. It was!) and got there too late to be able to visit or even explore the grounds, but I just wanted to see it anyway. (Would have been interested to see the plaque that is apparently there once the Cathedral was made a literary landmark because of L'Engle in 2012—she was a writer in residence and librarian there for decades.) We did get to the see the albino peacock in the garden, although the peacocks in the novel seemed to have been conventionally coloured.
We had dinner across the road from the cathedral, and then it was very exciting to be reading the next day and realize that the very place we'd eaten at—the V&T—was described by Suzy Austin was "the best pizza in New York." It really was! And then the next day we visited other parts of the city, and though I never got to Tenth Street, where Katherine lives in Greenwich Village, we were just close enough that I felt her presence and the streets she's describing. And the book was in my bag the entire weekend, to be taken out and read on long subway journeys—not that Katherine ever took the subway. I don't think she even knows it exists.
"Odd, how complex and intertwined life is. Every time I think I'm settling for chance and randomness, then pattern enmeshes me in its strands."