May 16, 2019
The Arm of the Starfish and Dragons in the Water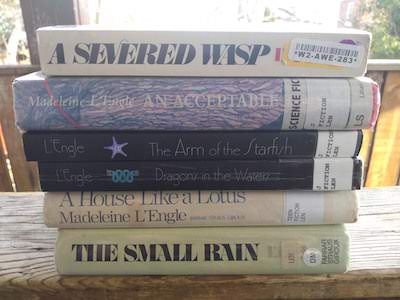 I think it's been about ten minutes since I last wrote an ecstatic blog post about how my decision to read Madeleine L'Engle's Austins series was completely the best thing I've done in 2019; so we're due, right? I finished up the Austin books with Troubling a Star about a month ago, and then decided to embark upon the Polly O'Keefe books, which sort of bridge the Austin and Wrinkle in Time Series. I'd tried to read An Acceptable Time as part of the Wrinkle series when I was a child, but I don't think I finished it, and I can understand now why it might not have appealed to me, because maybe all these books are best understood in the wider context of L'Engle's fictional universe(s).
Which is the most amazing mind-bending, time-bending universe. When I picked up Arm of the Starfish, I was actually travelling back in time myself from 1994 (when Troubling a Star was published) to 1964, when she published Arm… (I still can't believe that this book, which includes a grown-up Meg Murry, now a rather innocuous "Mrs. O'Keefe, was written before A Swiftly Tilting Planet. The way that L'Engle wrote her books so far from the chronological order in which they can be understood to be connected to each other…) Which means that while it was remarkable to reading a novel set just before the summer depicted in A Ring of Endless Night, I was also reading a book by a less sophisticated and practiced novelist. The Arm of the Starfish was also the novel with which L'Engle followed up the smash hit A Wrinkle in Time, which no doubt was some kind of pressure.
The book was okay—it was plot driven and interesting and had all the same kinds of thematic concerns of L'Engle's work (the nature of good and evil and how they're connected), but it was lacking in depth and was a bit too action packed. I also found Adam Eddington a less compelling narrator than Vicky Austin, and indeed Meg Murry has not grown into a very interesting woman and my goodness, she is has more children than the Old Woman Who Lived in a Shoe. But also, we're seeing her through Adam Eddington's eyes and teenage boys are perhaps not the greatest at seeing the marvellousness of a middle aged woman, especially when she is dripping with children. Interesting how Poly swimming with dolphins portends what happens with Vicky Austin not long after—and also I enjoy contemplating what might happen if Poly and Vicky ever met—would the universe explode?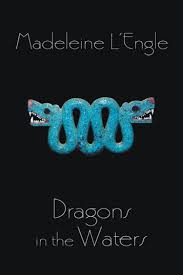 So I wasn't especially geared up for Dragons in the Water, published in 1976, about a boy called Simon who is on a nautical voyage to Venezuela and meets Poly (who has not yet become "Polly") and Charles (who is Charles Wallace redux) on board, and together they have to solve a murder and also there are smugglers and art thieves. But I loved it! Simon was a great character (but then again, name a fictional orphan who isn't) who has been raised to revere an ancestor whose story turns out to be more complicated and troubling than Simon knew. We also get a glimpse of "Mrs. O'Keefe" near the beginning of this book, and she's a more interesting character than in the previous book.
It was also exciting to meet Mr. Theo who is travelling to hear a concert by Emily, and I met both of these characters first in The Young Unicorns (published in 1969), along with Canon Tallis, who was also in Arm of the Starfish. I love that if we tried to map out a timeline of all these books and universes and how it all fits together, my brain would turn into silly string.
As with the Austin series, the novel is informed by the time it was written in: "I know a lot of politicians nowadays, and even presidents, don't take promises seriously and even lie under oath, but I was brought up to speak the truth," says Simon, post-Watergate. I also read this book right after reading an article in The Guardian on a small town in Louisiana that's one of the most toxic places to live in America because of contamination from a chemical plant, and this scenario is the same as in the novel, which is why Dr. O'Keefe has been called to Venezuela because fish are dying in a lake there where companies are drilling for oil. "Miss Leonis looked down at her feet where black sludge oozed heavily out of the lake. 'It looks to me as though the oil industry is raping the lake….'"
And then the response: "One thing I have learned in three years at Port of Dragons is that there are no easy solutions."
And isn't that the truth.