April 29, 2019
The Western Alienation Merit Badge, by Nancy Jo Cullen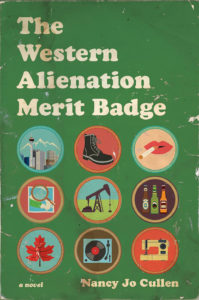 Nancy Jo Cullen's debut novel The Western Alienation Merit Badge (which follows her award-winning story collection Canary) begins billions of years ago: "After the inland sea dried up and its beaches turned to sandstone and the plant life turned to coal and gas…" Although by the end of the sentence, we've arrived in the 1970s, a small girl emerging from the bushes with her cap-gun loaded, a copy of The Guide Handbook tucked into her waistband. But we will not discover just who the girl is or where she's come from exactly for about 150 pages or so. And the point is this—that while history stretches long here, it's never out of sight, and everybody's looking backward, behind them, time unfolding like a peacock's tail.
Although there is nothing as extravagant as that in the novel's first section, which takes place in Calgary, Alberta in the autumn of 1982. Which is why it's particular hard for Frances to be home again, her European adventure cut short because her stepmother had died and her family needed her. Leaving behind her girlfriend and a certain amount of carefreeness in Portugal to come back to Calgary, which has just lapsed into recession. Her widowed father is taciturn and has taken up needlework as a way to connect with his wife, and Frances's furious sister has problems of her own. So when Frances reconnects with a woman from her past, and her (Catholic) family begins to understand that she's a lesbian, things go over just about as well as you might expect.
The Western Alienation Merit Badge was a pleasure to read, and in terms of craft is remarkable for two particular features. The first is for its points of view, which move between characters providing vastly different perspectives on the same situation, and while the few times this happened mid-chapter it was a bit jarring, the result of this approach is a complex and multi-layered narrative that is really effective in particular because of how Cullen avoids cliches and sentimentality in creating her characters and their dynamic. There's no wicked stepmother trope here, as Frances had really loved her stepmother, whose arrival in the household had made their broken unit into a family—and they're all lost without her. Her father's grieving process, taking up quilting and knitting and trying to channel his wife through her sewing machine, was unlike anything I've ever read in fiction before, and such an incredible way to add an additional dimension to a working class guy, the kind we've all read about in fiction before. But will his sensitive side extend to understanding the life of his lesbian daughter?
The other remarkable feature of the novel's construction is that after a short second section set in 2016, the novel takes us back in time. Not quite as far back as when the inland sea dried up, but instead to 1974, before Frances's stepmother came into the picture, and here the reader is provided with the solution to much of the puzzle regarding the kind of people who the members of this family would become. Because Alberta is the kind of place, the novel is suggesting, where the answers to questions still lie in the past, which is why this novel set in a recession-era Calgary circa 1983 seems so absolutely timely in 2019, in particular as the province has dominated national headlines lately with their recent election.
If you're not from Alberta and want to understand why Alberta is the way it is, and the way many people who live there feel about themselves in relation to the rest of Canada, this novel is a good place to start.