April 25, 2019
Moccasin Square Gardens, by Richard Van Camp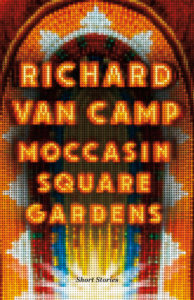 I've always got time for Richard Van Camp, who I got to know first through his baby books and then discovered his work for older readers (including The Lesser Blessed, and his most recently book, the short story collection Night Moves). His latest is Moccasin Square Gardens and, as you might expect from an author whose work spans lullabies to stories about monsters, these stories run the gamut.
There are aliens ("the Star People") hovering overhead in the first story, brought to an Earth on the verge of collapse due to global warming, but even in the midst of this ominousness, a gorgeous love story ensues. In "Super Indians," a young man hatches a delicious plan to bring down his Band's Chief whose latest bad idea is a hydroelectric dam on the Slave River.
The next two stories are about the Wheetago, the brutal human-eating monsters that Van Camp has written about before, creatures whose presence paints the tender moments in the collection in even starker outline, as they're meant to be—but let's not forget about the human-eating monster aspect of this either. The second story in particular is not for the faint of heart, and you will not be bored here, and you will actually not be bored at all in this collection, with most of the stories narrated in the first person as to a listener, so it's like hearing a story, just sitting back and letting the scenes unfold behind your eyelids.
The stories are also funny. In "The Promise," a bride must contend with her new husband's revelation about a long-ago vow made to a childhood friend. Continuing the theme of puerility and men, "Man Babies" is the tale of a man who falls in love with a woman whose 28-year-old son has yet to grow up. "I Am Filled With a Trembling Light" is another story of vengeance with the most amazing arc. And then in "Ehtsee/Grandpa," a young man who quits smoking pot after getting his grandparents stoned and then taking them to KFC where everybody laughs hysterically, and that's just the beginning….