April 2, 2019
A Deadly Divide, by Ausma Zehanat Khan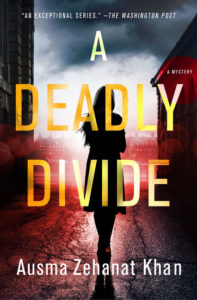 It was uncanny to be reading Ausma Zehanat Khan's latest mystery A Deadly Divide, a novel about a (fictional) mass shooting at a mosque in Quebec. For obvious reasons, of course, after the terrorist attack in Christchurch, but also because of the voices that are a part of Khan's narrative in this novel, her fifth one about Detectives Esa Khattak and Rachel Getty, who work as part of a "Community Policing" team investigating crimes involving immigrant communities. (In her previous novel, A Dangerous Crossing, the detectives end up on a Greek island investigating a case involving trafficking Syrian migrants; the first book in the series, The Unquiet Dead, was about the 1995 Srebrenica massacre; Khan holds a Ph.D. in international human rights law).
"I wrote this book because I have long studied the incipient and incremental nature of hate and the fatal places hate often takes us," Khan explains in her Author's Note. "I wrote it to illuminate the connections between rhetoric, polemics, and action. To suggest that the nature of our speech should be as thoughtful, as peaceable, and as well-informed as our actions." The novel includes online conversations between users on a white supremacy chatroom, conversations which one might call "vividly imagined" on Khan's part in how entirely lacking they are in imagination—or empathy, or understanding. The lines being blurred between fiction and reality as I was reading this book, as I was reading comments from the Yellow Vest Movement's Facebook pages. The dangerous rhetoric out there, and it's terrifying, Khan connecting the dots between the things people post and write, all the supposedly harmless provocateurs—her novel features a radio DJ who relishes pushing boundaries and buttons—, the oh-so principled free speechers for whom the right to say anything at all trumps the right for other people to be unthreatened in the places where they live.
Esa and Rachel arrive in Gatineau in the aftermath of the mosque shooting, where a Priest who was found holding a gun at the scene has been released, and a Black paramedic who was praying at the mosque and went back inside after the shooting to help his friends has been arrested. Meanwhile Esa and Rachel an old friend, a student at the local university and a civil rights activist whose work has been catching the attention of a white supremacy organization on campus. And the activist's ties to the leader of that organization are complicated, and so are Esa and Rachel's relationship with the head of the police team they're working with in Quebec. Who is to be trusted? Khan doing her best job yet in the series, I think, of plotting out twists and turns and always keeping her reader guessing—so that this book, which is a social treatise, turns out to also be a riveting detective novel at the very same time.