March 21, 2019
Crow, by Amy Spurway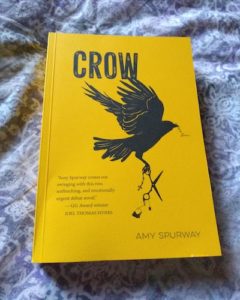 It sounds like a book you might have read before—Stacey "Crow" Fortune leaves her flashy Toronto marketing job behind when she's diagnosed with untreatable brain tumours and flies home to Cape Breton to face her fate, returning to the chaos of her mother's trailer and grappling with the struggles of the community she thought she'd left behind. There is death, impoverishment, addiction, and long-buried family secrets—same old sad-sack CanLit, right? But wait. Because Crow, Amy Spurway's debut novel, is a comedy, both larger than and bursting with life. Instead of a "bucket list", Crow has a "fuck it list," items she just can't with anymore, which includes suffering fools or putting up with anybody's bullshit. She's calling it as she sees it, even if she isn't always seeing it right, and she's my favourite unabashed, fierce and brilliant heroine who has both a way with language and some neurological issues since Natasha Lyonne's Nadia in the Netflix series Russian Doll.
Part of the joys of Russian Doll was its ensemble cast, and so too it is with Crow. Crow comes home to her two best friends, Allie and Char (who has also just returned home with her baby whose father is a Congolese diamond smuggler, and who is also deaf in one ear and says most words the way she'd always heard them: "F'eyed known there was a bomb fire, ida brung some bleeding' marchmallows." Plus there's Crow's mother, Effie, a long suffering housekeeper at the Greeting Gale Inn; Effie's gossiping sister, Peggy; her old flame and pot dealer Willy the Gimp; plus Becky Chickenshit, Shirl Short, Bonnie Bigmouth, Duke the Puke, and the Spensers, Crow's dead father's family who ran the mines that kept the locals in employ (and sometimes killed them) for generations.
It's a meandering plot, but then what journey towards death isn't? And there were moments where I wondered if Spurway was really going to be able to pull this off, a comedy novel about serious business with a cast of hilarious misfits that could come close to bordering on caricature. The most incredible material but it requires authorial deftness to do it right—but Amy Spurway is the real thing. Her glorious sentences are something to behold in, from the very first few: "I come from a long line of lunatics and criminals. Crazies on one side of the family tree, crooks on the other, although the odd crazy has a touch of crook, and vice versa. I am the weary, bitter fruit—or perhaps the last nut—of this rotten old hybrid, with its twisted roots sunk deep in dysfunctional soil."
The adjective "brave" gets thrown around all too often in regards to literature, but I'm going to pitch it here, because it's right for a variety of reasons. First of all, a book about death—and mental illness, and disability, and abortion, and spousal abuse, and class, and poverty—and the narrative takes no shortcuts or shies away from the hard stuff. I kept waiting for the part where it veered off course or fell into the saccharine, but that point never happened. Crow delighted me and amazed me the further I read, with its freshness, its daring, its refusal to conform (and the projectile vomiting). The bulbs that Crow finds in her mother's trailer, and what comes up in the spring—it's all just perfect (but no spoilers). And oh my gosh, the ending—it was literally stunning. The narrative entire is a veritable tightrope walk, a feat that's performed with style and verve, and it's absolutely dazzling.
"And then there's the bigger, more grandiose questions about will happen when I'm gone," Crow considers. "Where am I going? Anywhere? Nowhere? Somewhere? Somewhere good? Will there be tea and squares and laughing and crying and swearing there, because if there isn't, well then I don't want to go." And you really can't blame her. After 300 pages in this incredible novel, I wasn't ready to be finished either.