February 21, 2019
Hard to Love: Essays and Confessions, by Briallen Hopper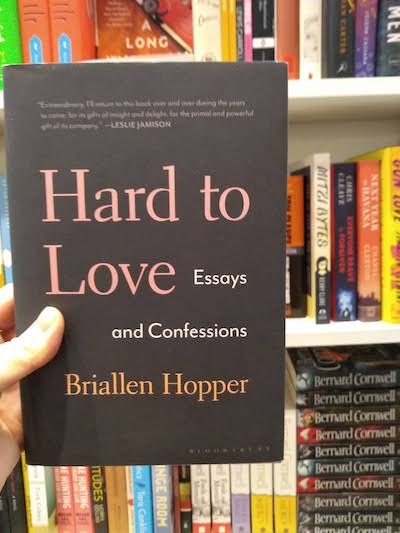 Of all the surprising realities I've lately found myself facing, none is more surprising than this one: On Tuesday night I stayed up long past my bedtime because I couldn't stop reading an essay on Cheers. Right? The essay was "Everything You've Got," from Briallen Hopper's brand new essay collection Hard to Love: Essays and Confessions, about the joys of rewatching the show on Netflix and how it bridges her reality as an academic with working-class origins. It's been a long time since I thought this hard about Sam and Diane, and the last time I did I was eleven years old or thereabouts, so the thinking has become a bit more deep and nuanced, but the essay was terrific writing about making your way in the world whilst in your '30s, whatever you get up to when your dreams of Major League baseball stardom are all done.
Cheers, of course, is a show about friends, and so are most of the essays in Hopper's collection, which I read over a weekend now named in our province "Family Day" in honour of the statutory holiday. Hard to Love serving as an appropriate balance, the idea that family needn't be based in biology or marriage, but can be based in friendships instead, which Hopper doesn't even make a case for because her experience demonstrates it plain as a fact can. The book's opening essay is "Lean On: A Declaration of Dependence," which you can read online here, and I loved it, a story about how there is nothing wrong with leaning on each other. "I'll never stop singing along with Bill Withers. I believe we all need somebody to lean on. But sometimes it seems like there are two American creeds, self-reliance and marriage, and neither of them is mine."
This book is a collection of so many of my own fascinations: "Pandora in Blue Jeans" is all about Grace Metalious's author photo, which is followed by an essay on Shirley Jackson and domesticity. Barbara Pym is referenced more than once, and then "Tending My Oven" and there are recipes. She writes beautifully about her complicated relationship with her brother through the lens of "Franny and Zooey." "Coasting" is about the network that emerged as she and a few others become caregivers for a friend with cancer. In "The Foundling Museum" and "Moby-Dick," she writes about her desire to have a child, and how her chosen family have supported her in this choice and process. The final essay "Girls of a Golden Age" about her community in New Haven, and plans to put down roots and purchase her apartment building along with friends—but then along comes a job offer in New York. Goodbye to all that. And also, hello.
It turns out that Hard to Love just isn't, and never more than when matters are messy and complicated. These are essays, beautifully written, rich and generous with twists and turns, and insight.