January 21, 2019
Bowlaway, Elizabeth McCracken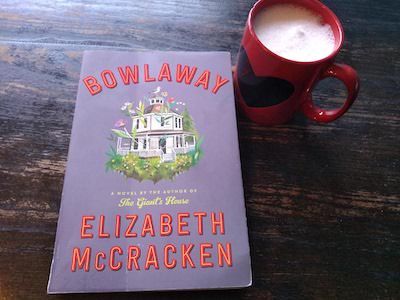 There is a house in Elizabeth McCracken's new novel, Bowlaway, that defies all the rules of conventional architecture. It's got eight sides and a cupola, a spiral staircase up the middle. "The walls were filled with lime and gravel and ground rice, and stuccoed with a combination of plaster and coal dust." And in terms of narrative architecture, McCracken has similarly tossed out the rulebook for this, her sixth book and third novel. (Her two most recent books are the short story collection Thunderstruck and Other Stories, and a memoir, An Exact Replica of a Figment of My Imagination.)
The unconventional house is not actually the novel's central edifice, however, although they're both commanded by the same character, a woman we meet in Bowlaway's very first sentence: "They found a body in the Salford Cemetary, but aboveground and alive." This is Bertha Truitt, of the gapped teeth and enormous bosom, who claims to be the inventor of candlepin bowling and is utterly uninterested in delineating the story of where she came from. (For the most part, so is Bowlaway itself.) Like everything McCracken writes—sentences, paragraphs, characters, action scenes—Bertha Truitt is vivid. The heart and soul of the book, one would think, or at least its foundation or supporting beam, if we're back to architecture. But forget the rules, remember? Because Bertha Truitt is deceased by page 78 (and no, this is not "a spoiler." Bowlaway is a book that could not be possibly be spoiled), swept away to her death in the Great Molasses Flood, Boston, 1919.
I will admit that at first I was unsure of my footing as a reader in this narrative, because it really is one in which the bottom can fall out at any time. Because I'd arrived at Bowlaway with fixed ideas about the way a narrative should go, ie the protagonist should not necessarily drown in molasses on page 78. Because this novel isn't easy, and it's full of tricks and play, and ghosts, and babies who die before they're born, and sons who are actually ex-husbands. It's not an simple read, and the reader has to pay attention, but the rewards of that attention are considerable, immense. Her previous novel, Niagara Falls All Over Again, which I loved, was about two vaudeville performers, and Bowlaway is similarly larger than life (McCracken is also author of a novel called The Giant's House), a spectacle.
But instead of a stage, the setting is a bowling alley, Bertha Truitt's candlepin alley, Truitt's, later named Bowlaway two generations following (although the family tree is complicated). Scene of one spontaneous combustion, as well as a murder, and home to a ghost, McCracken follows the alley and its regulars through three-quarters of the twentieth century in a novel that is unlike any other book you've read before, as rare as an eight-sided house inhabited by extinct avian species. With sentences and imagery that are shocking in their freshness and perfection—the mother who gives out love in homeopathic doses, say. There is no other writer who writes like Elizabeth McCracken, and I've never read a book quite like Bowlaway.