January 17, 2019
This Keeps Happening, by H.B. Hogan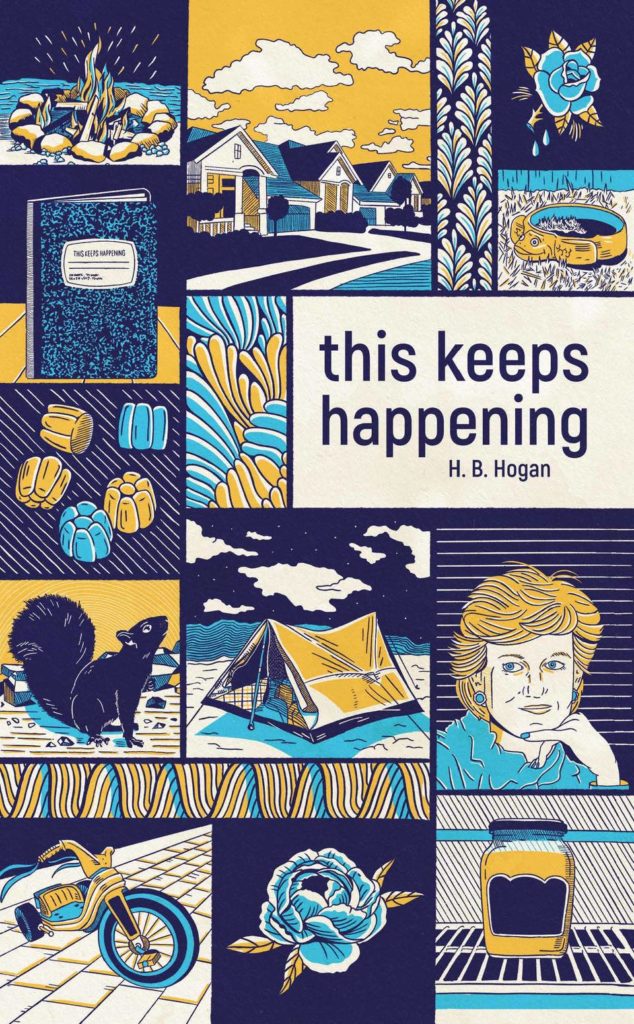 Don't get too comfortable with the stories in H.B. Hogan's debut, This Keeps Happening. Although even if you wanted to, you couldn't, because you'll only end up with eviscerated squirrels and a woman whose mother's gross boyfriend has shit running down his legs, and where's the comfort in that? But even still, it's hard to look away, and each of these stories are really compelling, although the first couple conclude on notes that aren't as illuminating as they'd like to be. By "A Fare for Francis," about a cab driver in Thunder Bay whose fare doesn't take his racist bait the wait he intends, however, I was locked in to this collection and read the entire thing on Sunday evening while soaking in the tub.
Hogan's characters are shackled, all of them, whether by poverty and low expectations or else suburban lot lines, and if the alternative to the former is the latter, then one can see where the problems arise. In "The Babysitter," a ten-year-old girl risks an encounter with a precocious teenage neighbour. In "The Princess is Dead," a man despairs of his life while his wife sits in their house weeping over the death of Princess Diana. In "Empties," a teenage girl longs for freedom and opportunity as she and her friend walk across Oshawa in an attempt to make six bucks returning bottles to The Beer Store. A conflict resolution class gets difficult in "Louis Remembers." In "Esteem," Alison's middle-class dreams get trounced on and she ends up lying on the pavement. And then, "The Mouths of Babes," which was so gross and horrifying that I had to tell my small children about it, and the darkness underlining, the mother stirring Kool-Aid, that reminded me of Margaret Atwood's Cat's Eye.
This is a book that grew on me, and a collection whose stories, characters and geographies I've been thinking about in the days since I read it. The opposite of being comfortable, this is a book that—in the best ways—gets under the skin.