November 22, 2018
Margaret Laurence and Jack McClelland: Letters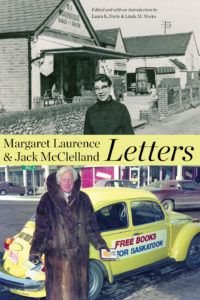 It's not typically a ringing endorsement when I tell you in November about the book that I've been reading since June, but this is no ordinary book. Margaret Laurence & Jack McClelland: Letters, edited by Laura K. Davis and Linda M. Morra has been one of the highlights of my literary 2018, a mainstay on my bedside which I'd pick up and read a couple of pages from every night. It begins with a letter from Canadian Publisher J.G. McClelland who sends a letter to a "Mrs. Laurence" in 1959 upon learning from a mutual friend that she'd recently completed a novel whose description sounded like something he'd be interested in. "I would be delighted if you would let us have the opportunity to consider the manuscript," he writes.
Three weeks later, Margaret Laurence sends her reply. along with her manuscript for This Side Jordan, and so a literary partnership was born, between one of Canada's greatest writers and McClelland, of McClelland and Stewart, the iconic Canadian publisher. And what a thing to watch, to read—the camaraderie developing between them,  Laurence finding her voice as a writer, McClelland's nurturing of and respect for her talent, which continues through the book entire. By November 1960, they've dropped formalities and are "Jack" and "Margaret," and they spar, and they gossip, and they worry for each other, and support each other, and their letters tell a great of the story of Canadian literature and publishing in the second half of the 20th century (which seems just as perilous and depressing as it is in the 21st, fuelled by passion and no cash. "The market for fiction is so bad," McClelland writes Laurence in 1964).
She writes to him in 1965, "I have finally managed to get a novel finished, but do not know yet if it's any good or not." That novel was A Jest of God, which McClelland finally reads and responds to by telling her, "The thing that continues to amaze me about your writing, Margaret, is that you improve with everything you write." I adored so many parts of this book in the specific, like when Laurence coerces McClelland into creating an LP to release alongside The Diviners, which was so not his jam and much more trouble than it was probably worth. Or when McClelland is speaking to a group of English teachers and railing against Alistair MacLean ("one of the worst writers in the world"—what a distinction!) and the teaching of his works in Canadian high school classes, and then one of the teachers responds with "here you have been complaining about the censorship of The Diviners and, at the same time, you are attempting to censor Alistair MacLean." McClelland closes the anecdote with this: "It's a crazy fucking world."
I also really loved the story of Margaret Laurence's trip to the Writers Development Trust fundraising dinner in 1982, mostly because I often find being an author in public is often an exercise in various humiliations (see my friend Rebecca Rosenblum's recent post "Indignities"). There were various complications at this particular dinner, particularly involving Margaret Laurence having to wait for a long time in a stifling corridor with nowhere to sit down or get a drink, and then when she finally enters the event and arrives at her table, she discovers that her table is…empty. The businessman who bought her table is late, and then when he finally shows up, he spends 20 minutes talking to Pierre Berton, and he also neglected to invite anyone else to sit at their table. It's agonizing, and hilarious, and so many of us have been there.
By 1986, however, the dust has settled enough that McClelland dares to invite Laurence to another fundraising dinner for the Writers Development Trust, but this time the party is in her honour, and he'll even host it in Peterborough so she won't have to travel, and she's even in agreement. But in September of that year, he receives the news that Laurence has terminal cancer, and he writes to her immediately: "Funnily enough what catches me at this particular moment is that I wish to God I could write. I would like to write you such a superb letter that it would enchant your and enrich you and support you through whatever the months ahead have to impose on you. I just don't have that gift [or] skill—the one in the world that I admire more than any other."
Laurence would die the following January, and I must say I have some vague idea of how hard that must have hit McClelland, how much he must have missed her, because I could have read this book forever. And possibly I will.