July 18, 2018
Astral Weeks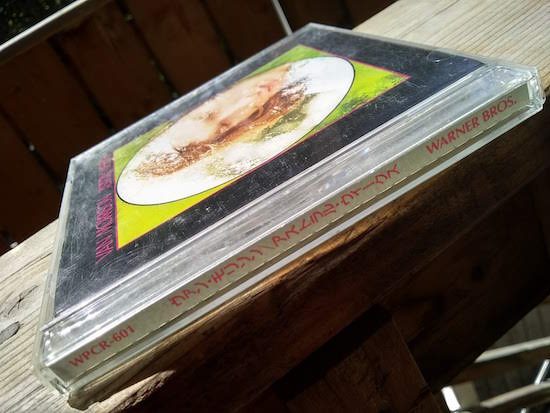 We were away last week and we brought our portable stereo and listened to the same CDs over and over, which are the same CDs we always listen to when we're at a cottage—Bon Iver and Kathleen Edwards' Voyageur, and the Beach Boys, and I bought Joni Mitchell Blue. And also Van Morrison's Astral Weeks, which I would listen to when I was in the cottage alone in the morning when I was drinking my tea and not ready to get dressed yet and my family was already down by the water.
And those mornings listening to Astral Weeks when I was all alone were like a time machine, taking me back to 2004, when I bought the CD. My friend Kate had mentioned it in an email, I think, and I looked for it at Tower Records the next time we were in Osaka. We were living in Japan at the time, which is why my copy of Astral Weeks comes with Japanese liner notes and lettering on the CD case. I bought the CD, and immediately fell in love with it, and "Sweet Thing" has been my favourite song ever since. That lyric, which I really understood having not long before undergone a season of tumult: "And I will never grow so old again." (I also liked that the "garden all misty wet with rain" from "Sweet Thing" is referenced in Caitlin Moran's new novel, How to Be Famous, which I read last week in less than a day…)
In 2004, Stuart and I lived in a tiny apartment and slept on a tiny platform below the ceiling that we had to climb a ladder to reach. We were both working as English instructors and had the same work schedule, except for Tuesday mornings when he worked in the morning and my shift was in the afternoon. So on Tuesday mornings I was by myself, and I'd put on Astral Weeks, music that I am quite sure was not long after encoded into my DNA. It's partly the flute, something about the flute. I don't know that I know another pop song with a flute in it, or at least that I've noticed, but the flute on "Astral Weeks," the opening track, is one of my favourite sounds. And that lyric, "To be born again. To be born again." I could relate after getting my life back on track, and beginning to move forward. That momentum—it was exhilarating. And the memory of all that possibility is what overwhelms me when I listen again to Astral Weeks.
The album is the soundtrack to all my memories from 2004 (except the ones where I'm singing "Bad Bad Leroy Brown" at karaoke), though I'm not sure this was really the case. It could have been though, because I had a mini-disk player and later and iPod shuffle, and I'd possibly downloaded "Astral Weeks" onto both these devices, and perhaps it was Astral Weeks that was playing the very first time I read Joan Didion's Slouching Towards Bethlehem, on a trolley ride from Hiroshima to Miyajima. It might as well have been, the two are so connected in my mind—they actually came out in the same year. I feel like Joan Didion would have known something about being caught one more time, if not up on Cyprus Avenue: "And I'm conquered in a car seat. Nothing that I do." (She probably had a migraine from the Santa Ana.) Madame George also seems like a character from one of her essays—one of the ones where the centre does not hold.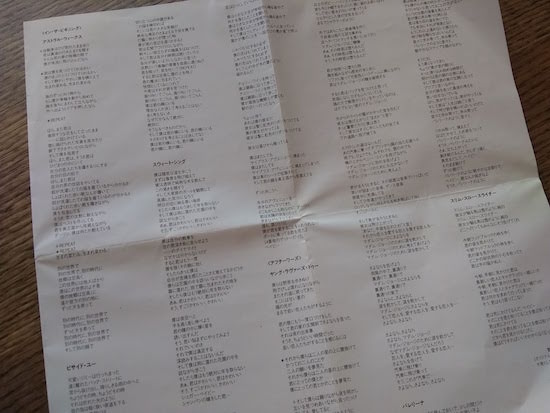 I was also discovering Margaret Drabble for the first time in that period, so her books are connected to Astral Weeks as well for me. The first novel I read was The Radiant Way, whose Esther Breuer lives at "the wrong end of Ladbroke Grove," which is where Van Morrison saw the subject of "Slim Slow Slider" walking, and maybe he even saw Esther too. And falling in love with Margaret Drabble (and Joan Didion) was such a big deal for me as began to discover who I was as a reader and writer. It was a period in which I developed a habit that I've never been able to get back again—underlining words I didn't know in books and looking them up in the dictionary. I kept a list, and one of them was "avarice," and I'm not sure whether I encountered that one in a book too, or else it was just the line from "Astral Weeks."
I was keeping the list because I had been accepted to graduate school for the following September, and I was hoping to improve myself enough in order to be smart enough to warrant being there. (It didn't really work. Do you know what it is to arrive at graduate school with absolutely no knowledge of critical theory? It is NOT FUN.) I was looking forward to moving back to Canada, and I was also planning my wedding (to someone who never mentioned driving his chariots down my streets of crime, but I know he would do it if I asked him), and really, we were on the verge of everything. I knew it, so it was overwhelming to be there in 2004, the sun shining through our window and rendering everything golden, and outside a pachinko parlour on the horizon. Not long ago, I found our old apartment on Google Maps, and the parking lot next door had sprouted a building, so the sun doesn't shine through that window anymore, but I'm so glad I was there when it did, listening to Astral Weeks.
"And I will raise my hand up into the night time sky, attract the star that's shining in your eye, ah just to dig it all and not to wonder, that's just right. And I'll be satisfied not to read in between the lines."